Our Veterans Deserve Your Support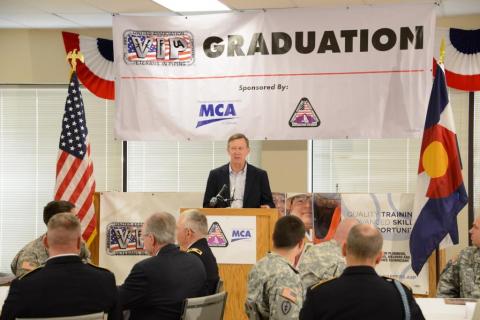 The Right Thing To Do
The UA is extremely proud of the men and women of the armed forces. To that end, in conjunction with the U.S. military, we offer the Veterans in Piping (VIP) program, which provides transitioning active duty service members with accelerated job-skills training in preparation for promising careers in the piping industry.
This program, which began at Joint Base Lewis-McChord in Washington State, has since been expanded nationwide to serve all branches of the military.
The Challenge
• Since September 2011, approximately 2 million service men and women have served valiantly in the armed forces.
• The unemployment rate for those veterans is far higher than the national average, especially among 18 to 24-year-olds, where the rate exceeds 21 percent.
• Many younger service men and women, especially those who went from high school directly into the military, have a difficult time adjusting to civilian life and need additional support.
The Solution
The UA's program, which is free to transitioning active duty service members, offers the following:
• Eighteen weeks of accelerated training leading to entry into a UA local union as an apprentice
• Transitional training to help active duty service members make a smooth adjustment to civilian life
• Certification as a skilled UA welder and employment, in most cases, in the area of the veteran's choosing
• Opportunities to acquire not only journey-level status but additional certifications leading to careers as stewards, foremen and superintendents
The Benefit to Our Industry
• A skilled, dedicated, drug-free and highly motivated cadre of workers with a proven work ethic
• Replenishment of an aging workforce
• Rapid development of greater numbers of skilled and certified welders, the most in-demand sector of UA skills
• The opportunity for our industry to "do the right thing" on behalf of veterans
As our transitioning military service members prepare to leave the service and return home, many of our youger veterans are facing an unemployment rate significantly higher than non-veterans in the same age group.

Meanwhile, the construction industry across the country is in need of a young, capable workforce...fast! The Bureau of Labor Statistics estimates a need of nearly 21,000 welders by 2022, and this number will only continue to grow as baby boomers retire.
Our answer: the UA Veterans in Piping Program.
To facilitate the career training of as many soon-to-be veterans as possible, the United Association and the U.S. military have created an infrastructure of mobile training facilities, online studies, accelerated training and other educational options. Our training program provides accelerated, 18-week courses in the piping trades that offers those preparing to leave the service the opportunity to quickly re-enter the workforce with solid skills and a sustainable career upon their retirement.
AS A LEGISLATOR, WHAT CAN YOU DO?
The UA VIP Program was created to assist transitioning military service members from military careers to civilian life. It begins with recruiting military personnel prior to their discharge and providing them with valuable skills and training opportunities while they are still on active duty. This allows them to be immediately placed into good jobs in the private sector upon discharge, so they can hit the ground running when they return to their homes and families. This process was made possible as a result of Congress enacting the VOW to Hire Heroes Act in 2011.

The UA VIP Program, which has been recognized as one of the most effective veteran's assistance programs in the country, as of January 2018, has successfully placed more than 1,600 returning veterans into gainful employment in various industries, especially construction. All of this work has been done entirely with private funding without government assistance.

We want to do more and could use your help. One of the best ways to create more good training and employment opportunities for veterans is to promote the use of contractors who participate in these types of programs by enacting legislation that recognizes the "value-added" services such companies provide on federal contracts.

By encouraging the use of such contractors, we will create more jobs and opportunities for returning veterans and also enhance the quality of services provided on federal construction sites and other federal contracts. Our military personnel have sacrificed so much for us; we must be able to find a way to help them in their return to civilian life.

Help us put the brave men and women that fight for our country back to work. Contact the UA Veterans in Piping Program today to learn how you can support our award-winning transitioning military service members training program.