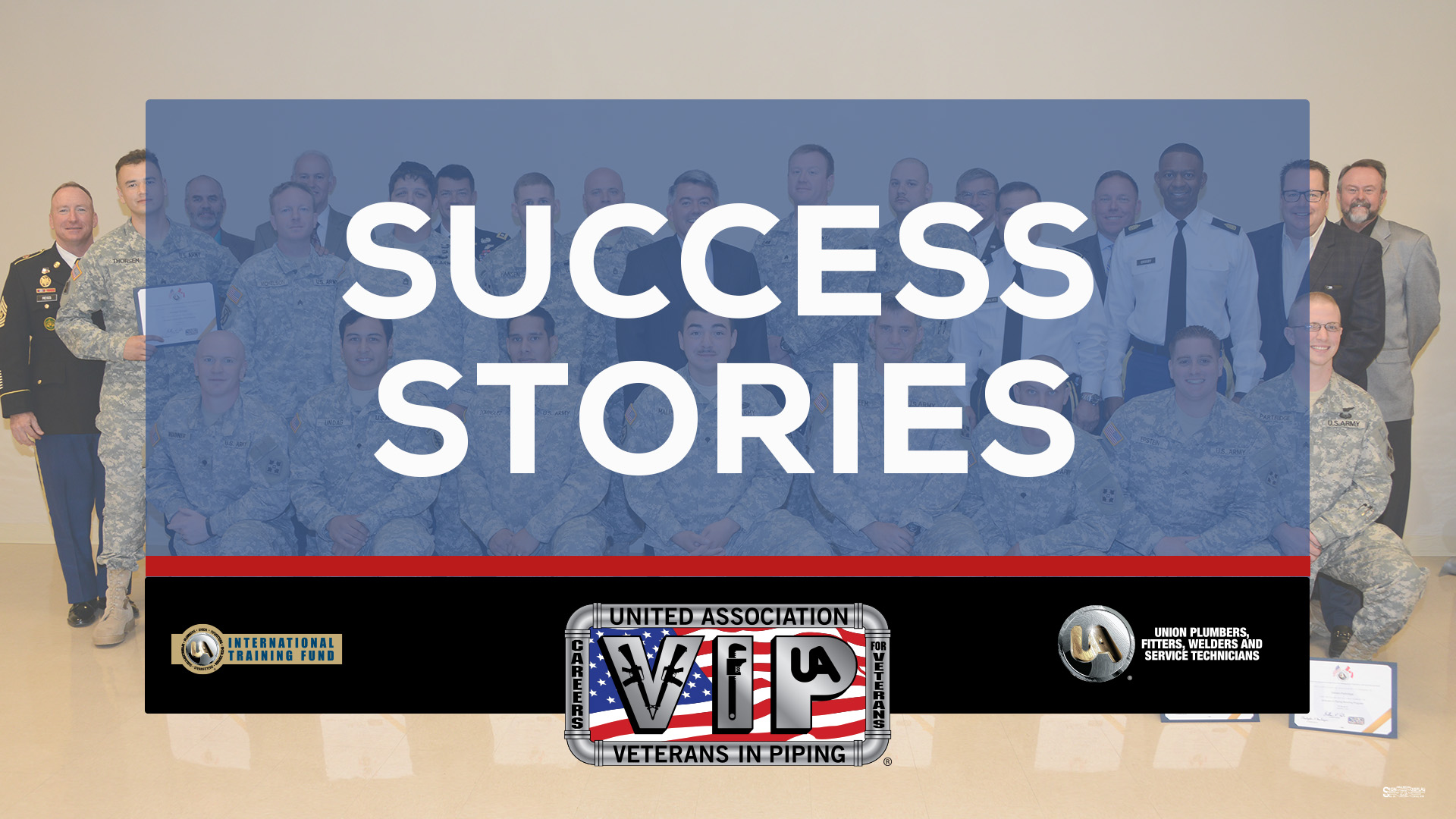 Army veteran Kristofer Schaffner joined the United Association (UA) Veterans in Piping (VIP) Program to begin a new career in the pipe trades after his time in the service.
In 2021, Schaffner became a journeymen member of Plumbers and Pipefitters Local 761 in Burbank, Calif.
The UA VIP program is a DOD Skillbridge Program that teaches transitioning active-duty service members valuable skills to begin their careers in the pipe trades. Schaffner owes his success to the UA VIP program, which taught him foundational welding skills to begin his civilian career.
"I saw a flier on base for interviews for the UA VIP welding program and I thought, this is perfect, another area in piping that I can get under my belt and make a career out of," Schaffner said. "It's kinda funny, I remember Aaron, the journeyman instructor, telling me that even if I'm a bad welder, I always have plumbing to fall back on. I ended up doing plumbing anyway."
In 2017, Schaffner started his UA VIP welding training at Fort Carson. Over the course of 18 intensive weeks, he trained alongside journeyman instructors. His training was a combination of classroom instruction and hands-on training. He gained welding skills and earned industry-recognized certifications.
The UA VIP program provided Schaffner with a smooth transition after the military, and to this day, he says it's the best decision he's ever made.
"The best decision I ever made when leaving the Army, great pay and awesome benefits. The transition was incredibly smooth," he said. "VIP taught me skills to be successful in my career after the Army."
Schaffner is thankful for his time in the UA VIP program and strongly urges anyone who is eligible to apply to take a look at the select military installations across the country. Transitioning active duty service members are eligible to apply to the UA VIP program in their last six months of enlistment.
A job waiting for you with a pay scale worth the hard work
Once Schaffner entered a UA registered apprenticeship program, he was able to start earning good union wages and quickly be eligible for quality healthcare for himself and his family. He also started earning a pension and a 401K for his retirement. As he progressed through the program, he earned pay increases to complement his increased skills and knowledge.
Upon completion of his UA apprenticeship, Schaffner became a journeyman with numerous possibilities to further his career advancement and earn quality wages in an industry that is in high demand.
"Since the UA VIP program, I've worked multiple jobs, too many to list, from hospitals to restaurants. I am currently running a remodel job on the Georgian Hotel in Santa Monica, it is a 100-year-old hotel, and we are upgrading, repiping and remodeling it," he said.
The UA VIP program is open to any transitioning active duty service members who are in their last 6 months of enlistment and looking for a career after their service in the military. Schaffner would recommend the UA VIP program to any transitioning active-duty service members interested in a good-paying union career.
If you are interested in beginning a new career in the pipe trades after your time in the military, the UA VIP Program is for you! Click here to apply.