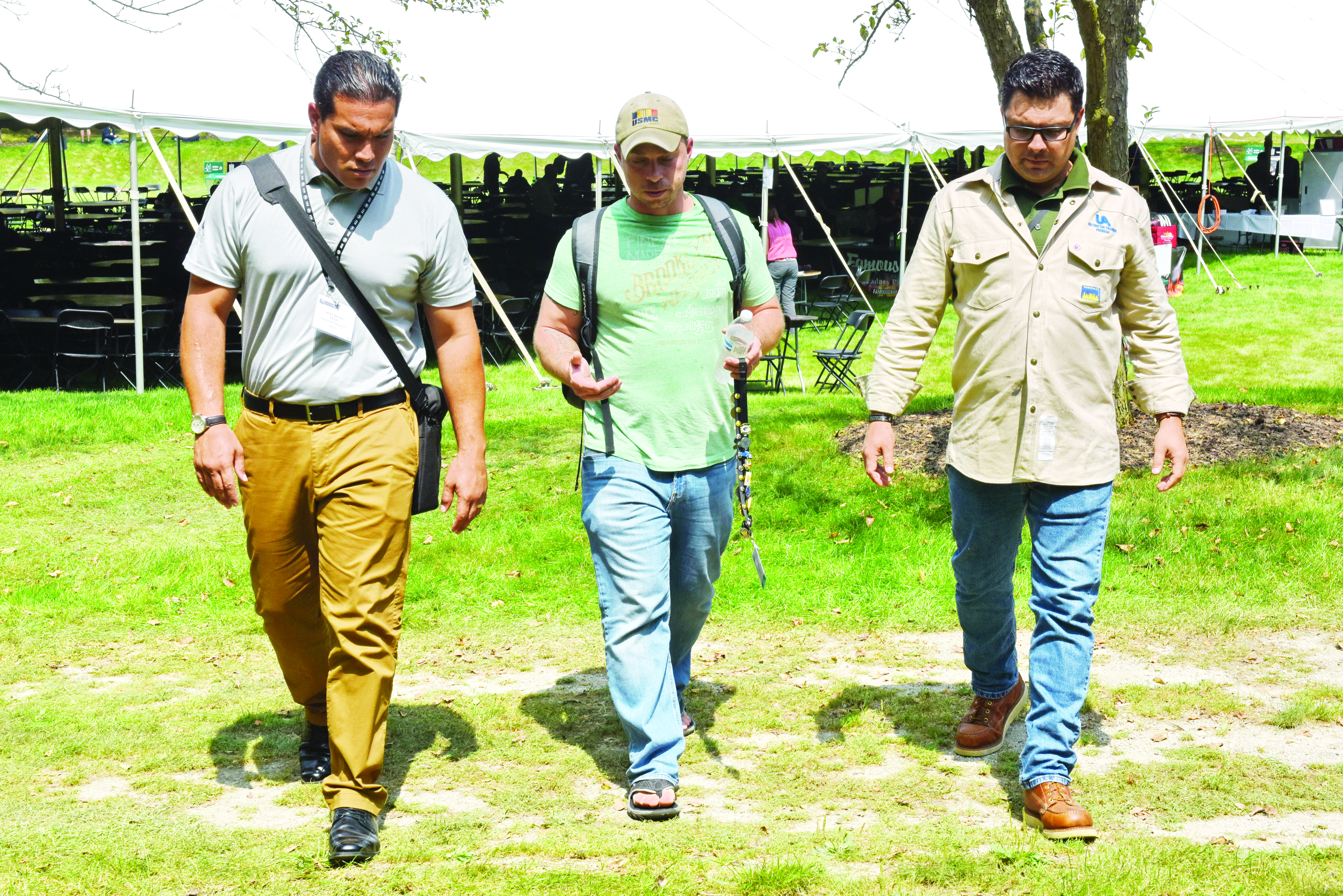 The United Association has one of the most prestigious training programs in the industry, based on the train-the-trainer model that many building trades unions have emulated throughout North America. To become a certified instructor for apprentices and journeymen of the United Association, one must participate in the Instructor Training Program that takes place in Ann Arbor, MI, at Washtenaw Community College. UA tradesmen and women take over the campus every year in August for an intensive one week program. To become a certified instructor takes five years of preparation and participation. This path can also produce a bachelor's or associate degree in various majors for those who choose to pursue them. To be an instructor at the local union level is an honorable position, for it is the hard work and dedication of the instructors that will secure the future of the United Association.
For one band of brothers—two of whom served in the same unit—it was not surprising that they were following one another's career paths. They transitioned out of the Marines at different times, graduated from the VIP welding program at Camp Pendleton in separate classes, and they experienced various projects in their chosen local unions once they began to work in the field as pipefitters/welders. In 2019, they each found one another at the Instructor Training Program, pursuing the same roles of instructors in their respective local unions.
Kevin Long
Kevin Long turned out as a journeyman pipefitter/welder in 2015. As a Marine stationed at Camp Pendleton, he completed the VIP welding program there. Kevin continued with his apprenticeship at Plumbers and Pipefitters Local 230 in San Diego, CA. For this interview, I met up with Kevin while he was attending the Instructor Training Program in Ann Arbor for the first time, and he was genuinely impressed. He said, "It's awesome. I feel very fortunate to be here. It's great to talk to other instructors and get their feedback on techniques. The classes are great. I feel like I'm learning a lot. The landscape, the school, our leadership back at our local unions—it's just very cool I was chosen for this.
When Kevin was a fifth-year apprentice, he was running work in the field. He said he became an official foreman in 2016. Kevin loves the work. He stated, "My training coordinator gave me a call and asked me if I would be interested in teaching the VIP program. The current teachers were retiring, and they were looking for replacements to teach the welding program at Camp Pendleton. I turned it down because I felt that I was just not in a position to take that step yet. For one, I want to get more experience in the trade before I teach full time. Right now, I also work a lot of overtime, and to go into what would be more like a 40-hour-a-week job would have an impact on my income. He called me back and asked if I would like to be a substitute at the apprentice school, and I said sure. I showed up at the school, and they said, 'You're not going to be a substitute, we'd like you to teach.' I started teaching a welding method called gas tungsten arc welding to our apprentices with another teacher. I taught drawing. I teach one night a week. This way, I get to work in the field during the day and gain experience teaching at night. There are so many things you can do once you turn out as a journeyman. There are so many paths to take."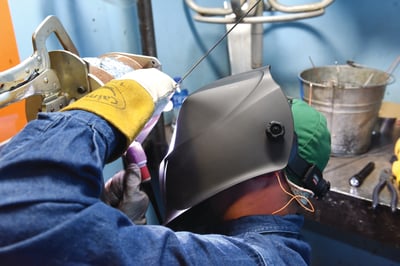 Sean-Keoni Ellis
Sean-Keoni Ellis went through his apprenticeship with fellow Marine Kevin Long. Today, they are both members of Plumbers and Pipefitters Local 230 in San Diego, CA. Sean joined the Marines at the age of 18. He completed his four years as an infantryman, and when it was time to transition out, he knew he didn't want to go into law enforcement. He heard about the welding program at Camp Pendleton, applied, and was accepted. "I loved the program," Sean said. "I felt prepared as far as my welding skills, but I knew I had a lot to learn. I left the program with four certifications. We were trained to understand welding, and we had 720 hours of solid welding under our belts. I felt very prepared for someone who had never had any construction experience. I didn't even know how to use channel locks, but I had great teachers. My first day on the job, I felt very prepared."
Sean turned out as a journeyman in 2015. He became a lead foreman. He said, "I did everything from welding to fitting to refrigeration. I always felt it was important for me to set an example for what hiring a VIP would be like for the UA. It was important for me to set up the road for the next Marine, soldier, airman, or sailor. I was determined to learn as much as I could."
Sean's path as an instructor occurred by accident. He said, "Originally, I wasn't interested in teaching. Mike [Hazard] came down to do a video promoting the VIP program. I was asked to interview for the video. I knew this would be my chance to thank the membership for this opportunity that has changed my life, so I was happy to be interviewed. Since I've turned out as a journeyman, I've been able to buy a home. I have three kids, and the amount I earn has made it possible for me to send them to Catholic school, which was important to my wife and me. My wife gets to stay home. I owe everything to this organization. I just spoke from the heart."
When Sean was asked to become the lead welding instructor for the VIP welding program at Camp Pendleton, he felt honored. "I had never taught before," he said, "but I felt that I knew Marines, and I knew what they needed, and I knew how to weld." Sean was attending the Instructor Training Program as an instructor, teaching classes to fellow military members from local unions across the U.S.
He concluded by saying, "This career takes persistence and hard work. Marines already have leadership skills. In the future, we will make an impact, and I'm confident we will be the future leaders of the UA."
Jonathon Hannel was an infantryman with the Marines for eight years. In 2006, he joined the Marines straight out of high school. Completing the VIP welding program at Camp Pendleton in 2013, Jonathon transitioned out of the military in 2014. He met Pete Villanueva, another VIP welding graduate turned instructor, in division school. Jonathon said, "Pete went through the program first and told me about it, and I applied and was accepted. I'm from Southern Illinois. When I transitioned out, I originally wanted to go to Indianapolis, but my VIP advisor felt that at the time, there wasn't enough work there. My second choice was Spokane, WA, because I had another friend who was living there, and I said to my wife, 'At least we will know someone.' Plumbers and Pipefitters Local 44 in Spokane is a smaller local union, and I love it. I'm a pipefitter, but I have my plumbing license too. I like it because of the brotherhood. I went into the Marines for the brotherhood, and then you go into the UA, and you experience a similar comradery. That's what made me want to pursue the instructor side. I had a teaching background in the Marine Corps. I kept talking about it because I love to teach. I was always helping others in my apprenticeship classes. Our training coordinator asked me if I wanted to be an instructor. I started with CPR/First Aid teaching apprentices. I became certified to teach that class, and now I am working on getting certified to teach other introductory courses."
Pete Villanueva
Pete Villanueva is a Marine who took his career path into his own hands. His drive was noticeable from the beginning. He graduated from the VIP welding program. He was so talented that he was a welding contestant at the 2016 International Apprentice Contest—a feat achieved by the most elite welders in the UA. He then went on to become a certified welding inspector (CWI), and he is currently a CWI/ATR instructor for his home local, Plumbers and Pipefitters Local 430 in Tulsa, OK. Not only was Pete attending the Instructor Training Program, but he was also one of the instructors teaching other instructors on a new welder testing machine housed in a mobile training unit.
In addition to being an instructor, Pete was also instrumental in the development of this machine and training mobile unit. UA Training Specialist Randy Gandy said, "The initial concept for the Welders Performance Destructive Testing Mobile Unit was to expedite welding testing on the jobsite for UA members. Destructive testing or bend testing is a simple and inexpensive qualitative test that can be used to evaluate both the flexibility and soundness of material, along with the skillset of the welder."
Plumbers and Pipefitters Local 430, Tulsa, OK, welding training coordinator Kenny Eden and part-time weld instructor Pete Villanueva became involved with the project after they had a conversation with Randy. Local 430 used Triangle equipment, and Pete was very familiar with it. When Randy spoke to Kenny and Pete about the idea of a mobile bend training and testing unit, they were excited to investigate the options.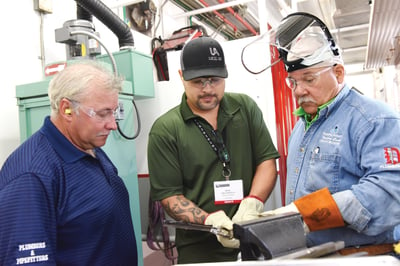 The team went to Pioneer Pipe and worked with Triangle Engineering, and they laid out and designed the trailer. Lincoln and Miller donated the equipment. Pete said, "They were both very impressed with the concept of a mobile unit designed for the operation of testing equipment."
Pete continued, "As a part-time instructor, I've spent so much time and worked so hard to become proficient in welding and being involved with projects like this is just an incredible experience." Pete was asked to come to the Instructor Training Program as a faculty member to teach other instructors how to operate the machine and all the fixtures that go through it.
Pete said, "When I was in the Marine Corps, for the last three years, I was an instructor. I taught a lot of Marines the basic development of small-unit leadership, and then I rolled into being a welder and then a part-time instructor. But last year was my first year teaching peers and colleagues, and you find yourself asking, 'Are they judging me on the materials I'm giving them?' Some of these guys have been doing this for 25 years, and you're in the infancy of doing it, and you're saying this is the way we're going to do it. It can be a little stressful. I feel comfortable teaching, though. I try to find the best way to describe what's going on. I've been so fortunate to have been fast-tracked—from starting in the Camp Pendleton Veterans in Piping program to being where I am today. But being an instructor at the Instructor Training Program—that's incredible!"
Randy said, "Pete was very instrumental in getting this program up and running. He was already very experienced with the equipment, and his aptitude and attitude were perfect for this job." As the military filters into the UA, and baby boomers continue to retire, VIP graduates are stepping into leadership roles. This natural progression, in and of itself, surprises no one. These examples underline the fact that there are other paths to take in the UA once an individual reaches the milestone of a journeyman.
This article was originally printed in the CareerOps: Winter 2019 edition.