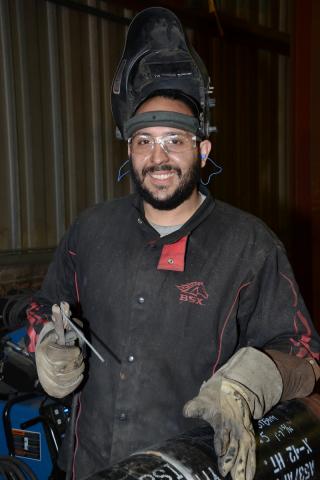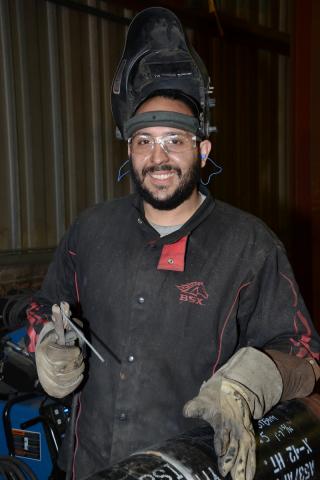 "I love my job!" exclaimed Willie Nazario, who has been on the job for one year working for Olson Plumbing and Heating in Colorado Springs, CO, in Olson's piping fabrication facility. Willie was in the inaugural Veterans in Piping® (VIP®) class at Plumbers, Pipefitters and HVAC Service Technicians Local 58 in Colorado Springs. He was a Sergeant in the Army based at Fort Carson and was deployed twice to Iraq as an Army Combat Medic.
"The first day I was confident," Willie said. "The foreman said, 'Let me see what you can do.' He liked it. I've gotten my first raise. Every six months you get a raise. I was pretty stoked about that. I chose to stay here in Colorado Springs. After my first raise, I moved to a better apartment."
"I'm welding," Willie continued, "and building stuff and fixing tools. I work from 7:00 a.m. to 3:30 p.m., so I am home by 5 every day unless I have school. It just feels like freedom. I am in school as a second-year apprentice. I just got finished with the math class. Now I'm in a Drawing and Interpretation and Plan Reading class, because every time I look at a job, I have to ask, 'What does that mean?' I know how to weld, but I don't know how to read that piece of paper. Now I am beginning to understand how to read it. I am also taking Backflow, Med Gas and Basic Electricity."
Willie stated that some of the values he received from the military have been paramount to his success, such as showing up on time, being where you are supposed to be, and wearing what you are supposed to wear. He said if you do all of that, you will be fine.
Mike Trapp, CEO and owner of Olson Plumbing and Heating, is proud that his company was able to employ Willie. He said, "The average guy who comes out of the military already knows a lot of the practical things that don't have anything to do with what we do—like getting to work on time and the importance of all of those things that go along with just being a good employee."
"I just got my stainless steel certification on Saturday," Willie added. "It took me three tries, but I got it. I will keep trying to get better."
Clinton Morris, who was a classmate of Willie's, is also working in a fabrication facility in Colorado Springs with contractor Pipeline Specialties. "I love this job," Clinton said. "I couldn't imagine doing anything else but welding pipe now. Everyone here at Pipeline has been so great to me. I haven't met anyone that I don't like yet. It's just been a great experience so far." Clinton stated that he doesn't plan on going anywhere for some time. "I can finally say I am happy to get up and go to work every morning. It's home away from home."
He went on to say, "A typical day starts at 7:00 a.m., and we work until the day is done. I go in, and everyone gets together to make a game plan for the day. We're assigned to different areas. I am usually with a pipefitter. They fit pipe for me. They teach me about the trade, and I weld pipe for them. We then pass it on to the next person."
Clinton stated that he would tell everyone who was investigating the VIP program as a second career after the military that if it was something they were interested in, they should go for it. "I never struck an arc in my life," Clinton said, "so don't let that put you off." He commended his VIP instructor Aaron Schultz, who he said taught him so much. He concluded by saying, "The military teaches you all about hard work. I take it with me every day. They taught me a lot about caring about my work. That's been really beneficial to me."
Philip Scharke, who is Clinton's foreman at the shop and views Clinton as a real asset to Pipeline Specialties, said, "I'm a 35-year UA member, and I have done everything. My job has taken me around the world. My last job was in Asia. I worked for a contractor out of Portland, OR. It's been a great career."
Mr. Scharke said the shop is currently working on a chill water system for a Boulder-based space weather company. The system was designed to keep its computers cool. They were also working on some piping systems for the barracks at Fort Carson.
"Clinton was definitely prepared for the job," Mr. Scharke said. "He is an apprentice now, and the program definitely gave him a step ahead with welding. He has a lot of discipline and the work ethic that the military instilled in him. He's up early and ready to hit it right off the bat. He's always here. He is willing to go beyond the call for whatever he has to do. He's the kind of person you want in your company. He's ambitious. He wants to learn everything there is to learn, and he wants to learn it now. He is really good at what he does, and he picks things up fast."
John Cote is working as an HVAC technician with Olson Plumbing and Heating one year out of the VIP program. He spent 14 years in the Air Force as an electrician and then graduated from the UA's HVAC VIP program at Joint Base Lewis-McChord (JBLM) in Washington State. Unlike Willie, who opted to stay put in Colorado Springs close to where he was based, John chose Colorado Springs as his employment option because of the long-term job prospects in the area. He joined Local 58 in Colorado Springs as a second-year apprentice.
He said, in reference to choosing HVAC over welding, that he felt his electrical experience would benefit that side of the program. John explained, "I got my basic certification. I didn't know that I would get that many certifications. I was actually thankful we were able to get basic refrigeration certification. That helps quite a bit, particularly when you are starting out in the apprenticeship."
John was employed within four days of graduation. "I work at Olson now," he said, "but I started in a company called AMS. We did a project at William Palmer High School installing a large boiler system. We were installing steam pipes. I got to work with a lot of fitters and welders, and there was another HVAC guy working alongside me. I was helping them move large steam pipes, moving them into position, and we tested the piping system. It was a very good experience. They finished the project, and once that was done, I went to the hall. They said that there was an opportunity with Olson. I started there the following Monday."
John stated that the HVAC VIP program had a lot of hands-on learning. He was grateful that he was able to look at different systems and gain an understanding of how they all worked. He said, "Having the credentials is so important. You have to want to learn. The more you learn about the HVAC systems, the more you will be able to gain those credentials, and people will want to have you join their company." John is doing residential work now, and he travels with a journeyman who has become a mentor. "You know when you go into people's houses, they trust the company. It is actually very rewarding to go into people's houses and work on their furnaces and test them to make sure they are working well. It is very gratifying, because it is service work, and you are doing someone good."
The VIP Welding program is not the only program that is succeeding. Lead VIP HVAC instructor at JBLM William McLaurin said, "We are boasting 100 percent job placement. There have been a few hiccups here and there where a person might not work on day one, but by day two and three that person is off and thriving and going on to his or her particular location. A lot of times a minor delay has to do with the particular state. The states have their own mandates for licensing, and the student just has to get the license for that particular area—then it is off and running. I get a lot of feedback from the former students, and they are working, and they are absolutely loving it."
"People who have a military background tend to like these careers," VIP Welding Instructor at Local 58 Aaron Schultz concluded. "It's not necessarily a desk job. It's hands-on. So if that's something you like to do, then I can't think of a better job than this—where you can actually see something tangible at the end of the day. You can say, 'I built that,' and can take pride in it."