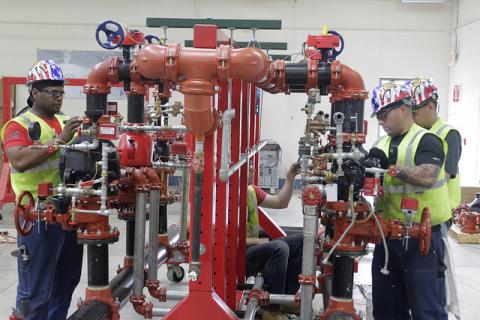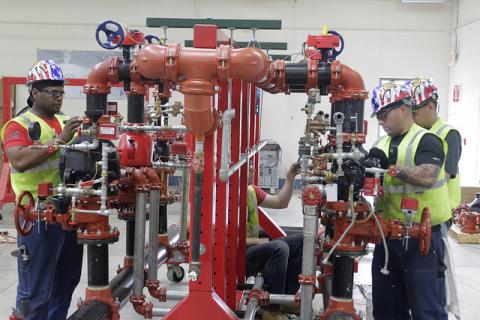 FORT SILL, Okla. -- The Fort Sill Industrial Training Complex is bridging the gap for Soldiers getting out of the military and putting them directly into the civilian workforce with the latest partnership through the United Association's Veterans in Piping (VIP). The 18-week fire suppression sprinkler system course is graduating its first class July 7, and the soon-to-be civilians are starting their careers at locations of their choice.

"We ask them where they want to relocate to and then we'll pick contractors in that area that will hire them. And then, whenever they leave this course, they already have jobs waiting for them," said Sam Sanchez, VIP program instructor.

The Soldiers spend 10 hours a day at the ITC Tuesdays through Fridays. Monday is reserved so the Soldiers have time to do any administrative work with their unit and clear post.

"I didn't really know what I wanted to do with my life outside of the Army, and then I ran into this opportunity through the Soldier for Life Transition Assistance Program, and really I'm not even done with the program yet and I already love it," said Spc. Timothy Moss, 31st Air Defense Artillery Brigade.

The Soldiers train for free while they finish out their military obligation. All funding for the course comes from the UA's International Training Fund, a management and labor cooperative. VIP's goal is to develop the safety and piping craft skills in veterans to replenish an aging workforce and meet the high demand for these jobs nationwide.

"These systems are used in high-rise buildings, nursing homes, residential, schools, everywhere. Every year the laws are getting more strict with life-safety systems and somebody has to install them, maintain them and service them," said Sanchez.

The intensive course covers everything from the basics to what pipers would be doing on four- or five-year level projects.

"I like it. It's challenging and I can't do desk jobs," said Joseph Perez, 1st Battalion, 78th Field Artillery. "It's similar to what I do now. I help the infantry when they're in trouble, and this way I still get to help people."

"The best part is I work on my feet. At the end of the day I get to see what I've done. I can step back and say this is all the pipe I've put up to save people's lives," said Brian Foster, 696th Forward Support Company.

According to Bureau of Labor statistics, the unemployment rate for veterans who served on active duty in the armed forces at any time since September 2001a group referred to as Gulf War-era II was at 7.2 percent in 2014. The national average for that same time period is 5.6 percent. The jobless rate for all veterans, at 5.3 percent, declined from a year earlier. In addition, 29 percent of Gulf War-era II veterans reported having a service-connected disability in August 2014, compared with 16 percent of all veterans.

"My ultimate goal as the program manager is for every course at the ITC to be filled at 100 percent. Our mission at the ITC is about employment skills training that leads to opportunities for our Soldiers to gain meaningful employment prior to separating from their military service after serving their country honorably," said Thomas Miller, ITC manager.
Interviews for the next VIP course begin June 30. Soldiers who are in the last 180 days of their estimated time of separation, retirement, medical board or involuntary separation can apply at the ITC, Building 2502 on Sheridan Road.

The start date of the course is July 19 with 10 spots available in the Fire Suppression course.
For more information call 580-442-6428
By: Ms. Marie Berberea (TRADOC)