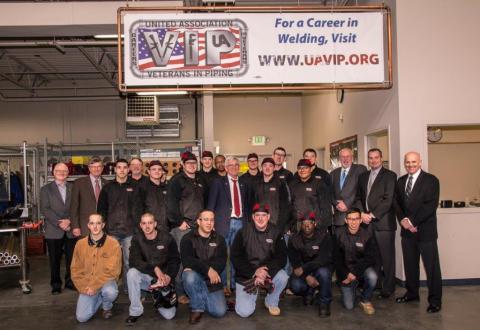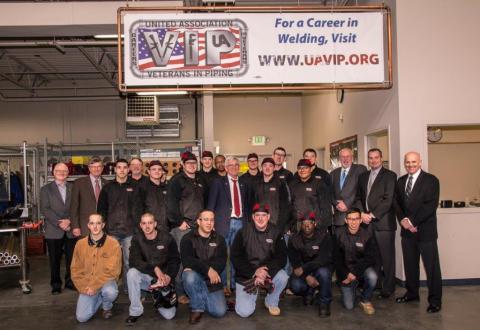 On March 5, 2014, Joint Base Lewis-McChord (JBLM) was host to the Honorable Keith Kelly, Assistant Secretary of the Veterans Employment and Training Service (VETS), U.S. Department of Labor, to showcase the United Association (UA) Veterans In Piping (VIP) program that is ongoing both on and off base. Currently at JBLM, the HVACR (heating, ventilation, air-conditioning and refrigeration) program is held on base at the Stone Education Center, while the welding program is held off base at UA Local 26 in Lacey, Washington.
Accompanying the Honorable Kelly on the visit were Michael Bocchini, VETS Chief of Staff; Alfred Kwok, BETS Regional Administrator; and Greg Mercer, VETS Washington State Director. Also in attendance were Major General Andy Aadland, U.S. Army (ret), who is now a Senior Consultant to the UA's VIP program; Major General James Collins, U.S. Army (ret), Civilian Aide to Secretary of the Army, Washington State, and UA Director of Training Chris Haslinger.
The visit was orchestrated to increase awareness of the UA's programs at JBLM. The tour allowed some time for the dignitaries to interact with the transitioning service members both on and off base, and the Honorable Kelly was given the opportunity to try his hand at welding.
The programs at JBLM, thus far, have been responsible for successfully transitioning 69 service members into highly sought after careers as piping professionals. Another 27 service members are expected to complete the program at JBLM in June 2014.