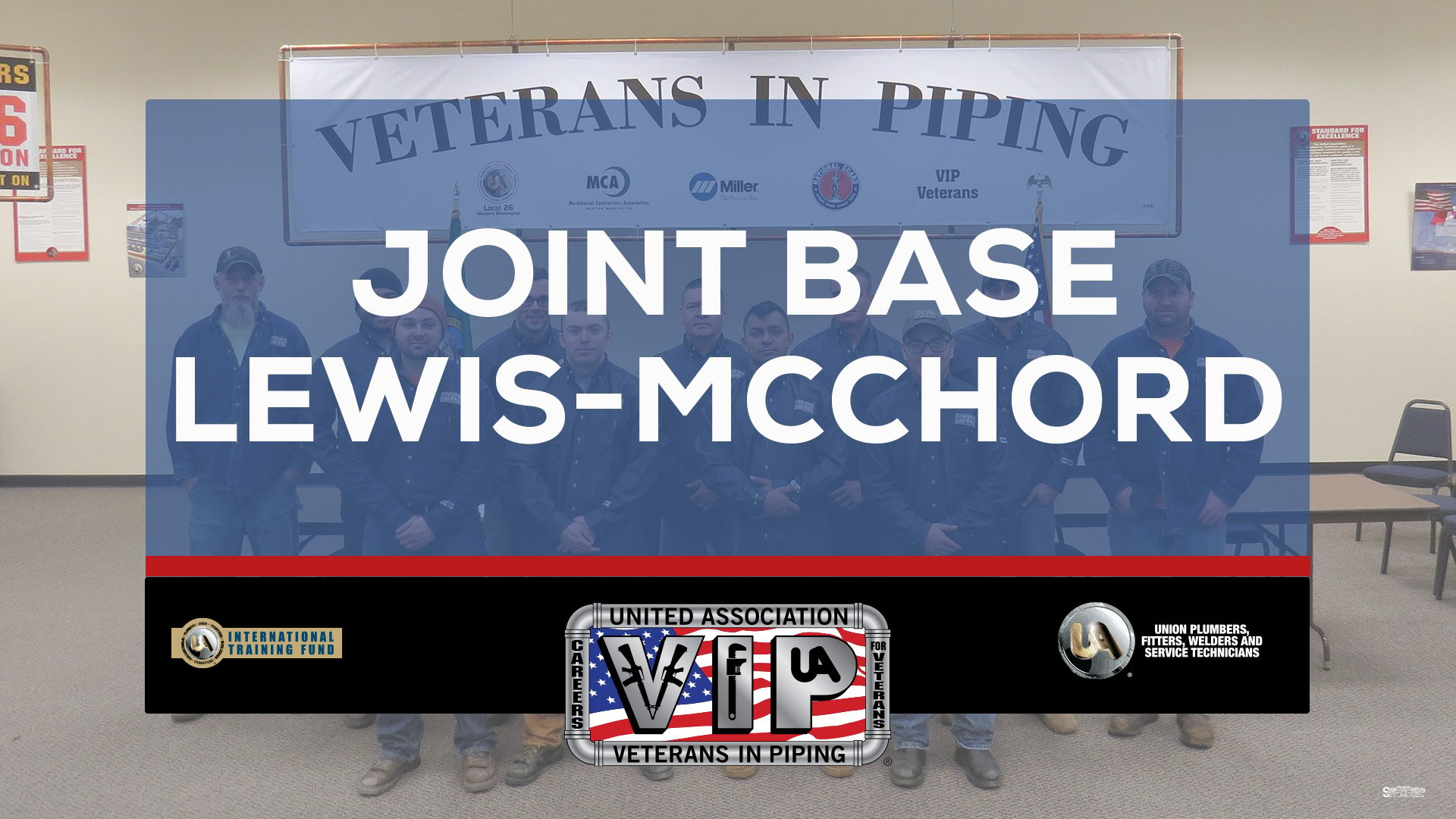 Active-duty service members are halfway through their 18-week United Association Veterans in Piping (UA VIP) Program HVAC-R training at Joint Base Lewis-McChord.
At this point in their training, UA VIP participants have learned basic HVAC-R skills and started to look ahead to their life after they transition out of the military.
UA VIP is a DOD Skillbridge Program designed to help active-duty service members transition smoothly into careers in the piping industry.
In their last six months of military commitment, these military members can qualify for placement in the UA VIP program and begin training in welding, fire suppression or HVACR.
In the case of JBLM HVAC-R Class 27, students are learning the basic aspects of heating, ventilation and air conditioning work, including the installation and maintenance of all sizes of heating and cooling systems for residential, commercial, institutional and industrial applications.
After nine weeks of training, Class 27 students have either earned or are well on their way to earning industry-recognized certifications, like UA 51 Brazing, EPA 608 and UA-51.
For Navy Mineman Brian Sepulveda, the UA VIP program was a perfect way to use the maintenance and sonar technician skills he already acquired during his Naval service.
"I managed and performed preventative maintenance on ships firefighting equipment, A/C units, cranes and cable winches that resulted in 100 percent equipment readiness," Sepulveda said.
The skills Sepulveda obtained during his military commitment made him a great candidate to apply to the UA VIP program, but there is no skillset or rank required to apply for the program.
The UA VIP program believes the determination, discipline and goal-oriented skills instilled in active-duty service members will translate well into their new pipe trade careers.
For Army Sgt. and Training Advisor Rusty Novelas, his experience in leadership led to a smooth transition into the UA VIP program.
"I assisted with training and certifying crews across the unit while maintaining 100 percent accountability of equipment valued in excess of $1 million," said Novelas, describing of his time in the service.
A guaranteed career with a UA contractor


UA VIP graduates are guaranteed a job, as they will go to work for a Local Union's signatory contractors in the area where they agree to work.
UA VIP graduates also gain immediate entry into a UA-registered apprenticeship program at an agreed-upon location. Once students reach the halfway point of the program, like those in JBLM HVAC-R Class 27, they begin the process of selecting a location where they want to begin the next phase of their life.
Like many of his classmates, Novelas decided to stay in Washington State where Joint Base Lewis-McChord is located. He and three of his future UA Brothers will soon join Plumbers and Steamfitters Local 26 in Western Washington.
After they finish their five-year apprenticeship program, the VIP graduates will become certified journeymen HVACR technicians, opening doors to various career opportunities.