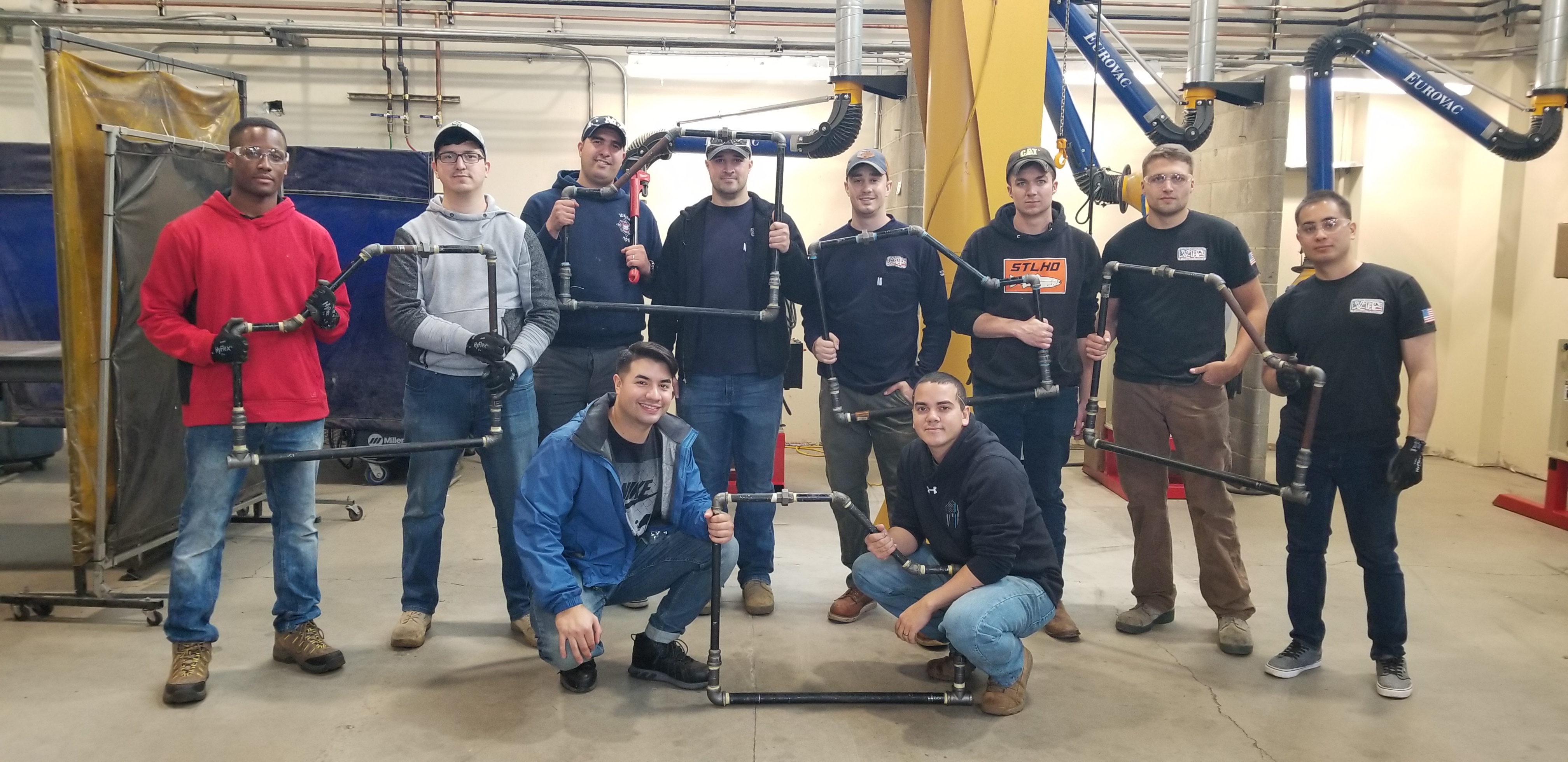 Army Sgt. Carlos Taylor first learned about the United Association Veterans in Piping (UA VIP) program from his father-in-law, who had participated in the training and went on to a successful career in the pipe trades after transitioning out of the military.
"The UA VIP program stood out to me because it's a guarantee of a five-year job that pays well and provides valuable schooling to improve your worth on the job," Taylor said. "The beauty of the program is it doesn't just let everyone in. You are handpicked because they saw something valuable in you – they believed in you."
Taylor is enrolled in Joint Base Lewis-McChord HVAC Class 25, which is halfway complete. Throughout the 18-week class, he and his fellow students train alongside an experienced journeyman instructor through a combination of classroom instruction and hands-on experience. They learn basic skills to install, inspect and repair heating, ventilation and air conditioning systems.
"After I complete my UA VIP training, I expect to be ahead of the curve as one of the better-trained first-year apprentices," Taylor said. "I've learned so much. My favorite part is the union brotherhood. Everyone is there for the same reason – to learn, grow and help their Union stand out in providing the smartest and best-qualified workers."
So far, Army Spc. Joshua Murphy has found the UA VIP training to be very smooth and rewarding.
"I am adjusting well," Murphy said. "My experience with the UA VIP Program has been amazing. Learning a new trade that I can use every day is very rewarding. It's exciting to progress and be in a career that makes me proud."
The UA VIP program offers welding, HVAC and fire sprinkler fitting training at select military bases throughout the country. Transitioning active-duty service members are invited to apply to the UA VIP during their last six months of enlistment.
The foundational skills to a career in the pipe trades
The UA VIP program is a Career Skills Program (CSP) for transitioning active-duty service members. It guarantees military members a good-paying job after they leave the military. The program is designed to provide the foundational skills necessary to begin a career in the pipe trades.
Once they complete their UA VIP training and transition out of the military, the students will begin a UA registered apprenticeship program at an agreed-upon location. During their training, they will earn good union wages while they learn and quickly qualify for quality health insurance for their families. They will start earning a pension and a 401K for their retirement. They will receive pay raises as they progress through their training.
Once they complete their apprenticeship training, the students will become journeymen with numerous opportunities for career advancement. Some will go on to become foremen, superintendents or project managers. Others will advance to become certified journeymen instructors, perhaps returning to teach in the UA VIP program.
"I encourage anyone considering the UA VIP program to do it," Taylor said. "The class sets you ahead of anyone coming off the streets to join a union. The UA VIP program provides an easy learning environment because everyone starts from the same place and goes through the same transition."