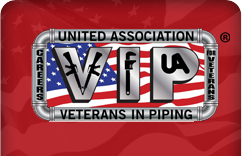 Jeremy Patterson believes the United Association Veterans in Piping Program provides him and his fellow transitioning military members a great opportunity.
Patterson, who is stationed at Joint Base Lewis-McChord, heard about the program by while serving as his battalion's SFL-TAP coordinator, helping members transition out of the military.
"It's a great opportunity that can lead to a very rewarding career," he said.
He applied for the VIP program because he was looking for a rewarding career after the military and discussing the HVAC trade with a close family friend, who works in the trade, determined it was the correct move for him and his family.
"It has greatly reduced the fear of the unknown by assuring me employment in an expanding field with outstanding benefits and the ability to further my career through constant training and education," said Patterson.
"I like the fact that the opportunity exists," he said. "Transitioning out of the military is a significant life event and knowing you will have employment on the other side helps ease one of the biggest fears."
Now, in the middle of the rigorous 18-week accelerated program, Patterson eagerly tells every transitioning service member he knows is transitioning out of the service about the VIP Program. He tells them if they have thought about applying, they need to do it.
Patterson is eager to finish not only the VIP Program, but also discharge from the military so he can begin the next stage in his life as a UA apprentice.
"By being accepted into the apprenticeship, the UA is giving me an opportunity to succeed in a very rewarding career field and I am giving assurance to the UA that their long-storied history will continue through me and my fellow apprentices."
The first step toward applying to the JBLM VIP Program is to submit your information by clicking here.