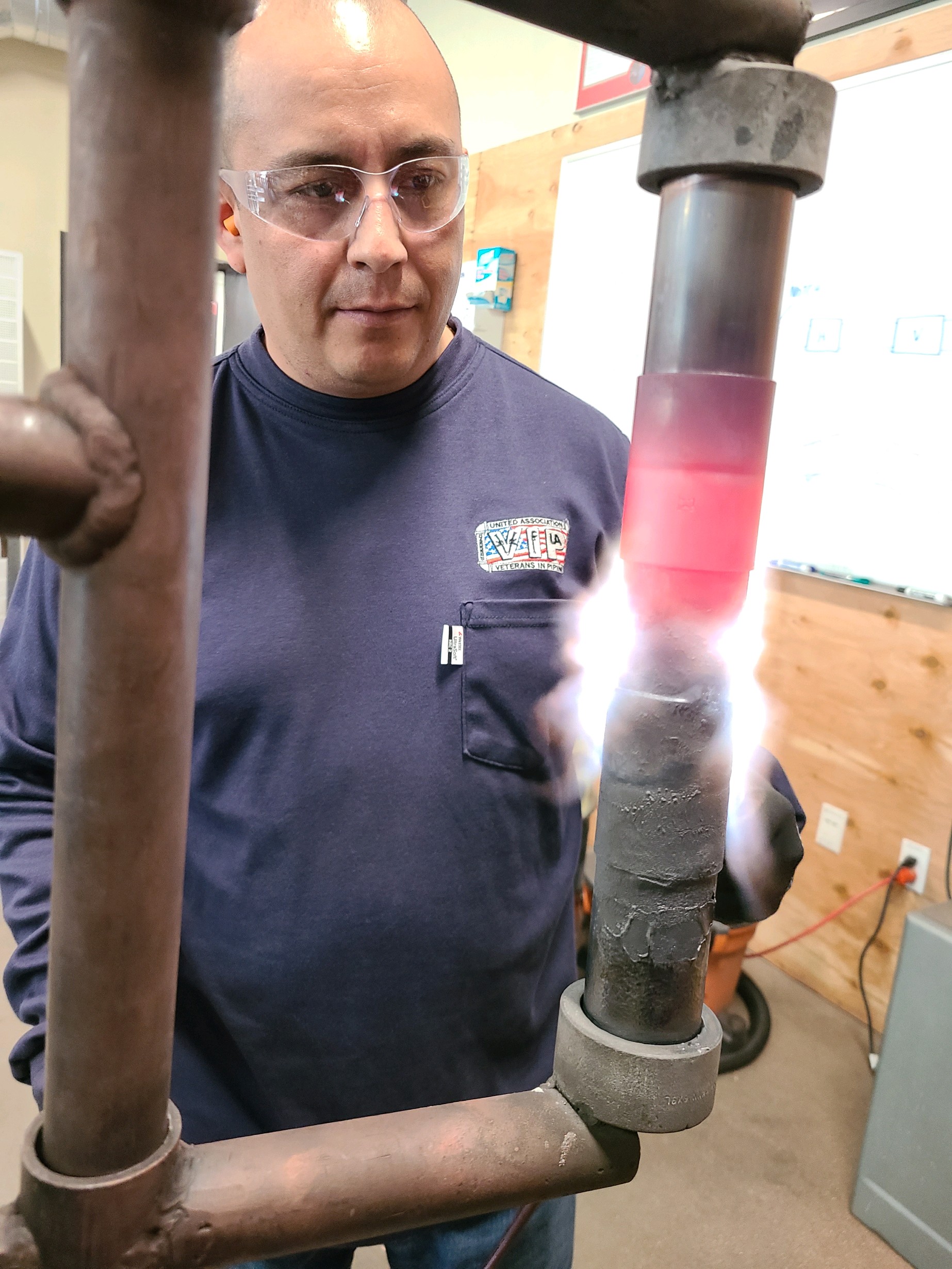 U.S. Marine Cpl. James Elliott joined the United Association Veterans in Piping (UA VIP) program for the opportunity to start a good paying career and a change of scenery every day.
"I joined the UA VIP for a great career and a job with great pay and benefits," Elliott said. "It's a career that will let me move around to different job sites and not see the same thing, day in and day out.
"I've really enjoyed the class," Elliott said. "My stress level is next to zero since I've been here, compared to where I was."
Now that Elliott and his fellow trainees have graduated from Joint Base Lewis-McChord HVACR Class 24, they will prepare for that career first hand after they transition out of the military. They will join a UA registered apprenticeship at an agreed upon location and begin good paying careers in the pipe trades.
The UA VIP program is a Career Skills Program (CSP) that prepares transitioning active-duty service members for a career in the pipe trades. It provides guaranteed job placement in a decent paying union job after the military.
The 18-week class taught foundational trade skills
HVACR Class 24's 18-week training course involved hands-on training and classroom instruction alongside an experienced journeyman instructor.
"The UA VIP training provides fast paced learning of HVACR skills with plenty of hands-on experience," Army Spc. Jeonghyo Kim said. "I learned a lot of information during the training that prepared me well for the certifications."
Transitioning active-duty service members are invited to apply to the UA VIP program during their last 18 months of enlistment. Training is offered in welding, HVACR and fire sprinkler fitting at select military bases across the country.
A guaranteed civilian job after the military
When the graduates start their UA registered apprenticeship program after transitioning out of the military, they will quickly become eligible for quality healthcare for their families. They will earn while they learn and receive annual pay raises as they progress through the program and expand their training. They will start earning a pension and a 401K for their retirement.
Once they complete their apprenticeship and become a journeyman, they will have numerous opportunities for career advancement. They will work for UA signatory contractors. Some will eventually become foremen or supervisors. Others may even return to the UA VIP program as journeyman instructors.
The graduates can look forward to good paying careers in the UA in a trade that has high job demand. New skills and fresh faces are badly needed in the construction industry. The newly acquired skills of the UA VIP graduates will be in high demand.
Being able to immediately start a good paying civilian career significantly eased the stress of getting out of the military, Army Sgt. Jeremy Olson said.
"If you want a solid plan to make it easier transitioning out of the military, I'd strongly recommend taking advantage of this program," Olson said. "The UA VIP program has been a great adjustment and significantly prepared me with valuable skills to be able to do my job."