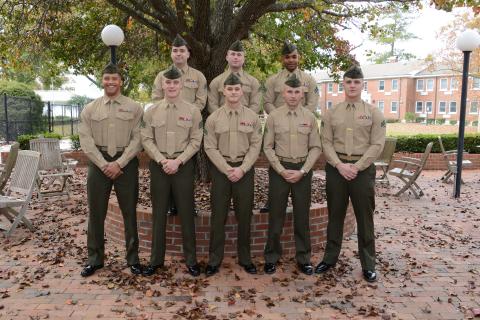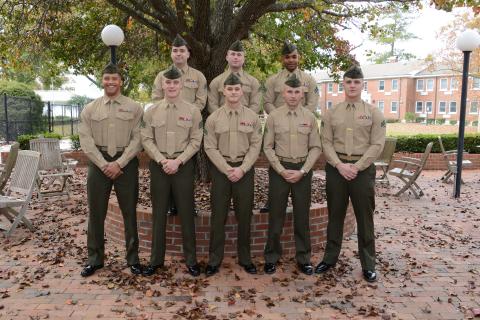 On Thursday, November 13, 2014, eight Marines from Marine Corps Base Camp Lejeune graduated from the United Association's Veterans in Piping® (VIP®) program. The graduates, who successfully completed the 18-week welding program, were proud, and so are the members of the United Association of their program that has taken the military by storm.
As the inaugural class at Camp Lejuene in Jacksonville, NC, these Marines have much to be thankful for. They have to be thankful for a Building Trades union that had the faith, not only to make a pledge to employ transitioning members of the armed forces, but to follow through on that pledge with a solid commitment to create a program that would secure a lifelong career for its participants. The graduates are lucky, and they know it, and so does the Camp Lejeune Command Sergeant Major Paul Berry. He said, "This is a premier program. This is one of the few programs where it's tangible and it's measurable."
Since its inception in 2008, the program has been improving lives and supporting those who have sacrificed so much for all of us. To date, the UA's VIP program has trained over 700 veterans, including 275 Marines. United Association General President William P. Hite had the original vision for the VIP program. He wanted to do more than he felt he was accomplishing through the Helmets to Hardhats program, and he has. The program is working. It's not only training active-duty, transitioning soldiers; it's guaranteeing them a job and giving them boundless opportunities.
Corporal Samuel "Colton" Jackson and his wife, Xantha, will be calling Chattanooga, TN, home with Local 43 come mid-December when Colton is finished with his military commitment. Xantha said Colton was excited to start a job that he already loves. Others are moving back home. Corporal Daryll Zeiser, Corporal Alejandro Francis and Corporal Jason Price, all from the New York/Staten Island/Long Island area, have been placed at Local 638, New York City and Long Island, NY. Corporal Tim Bloom, who is from Dearborn, MI, is headed to Local 636 in Detroit. Corporal Brian Hawkins chose Raleigh, NC, with Local 421. Corporal William Herron is headed to Boston, MA, to Local 537, and Sergeant Boone Cole will be joining Local 248 in Ashland, KY. The graduates had input into their placement, and the UA did the rest. Mike Hazard, who runs the VIP program for the UA, stated, "We found the program works best if the graduates have that support on the other end. They all have our support, but family support and being in an area where they want to be has proven to really pave the way for success."
Sergeant Major Berry added, "The fact that these Marines get guaranteed placement after they successfully complete the program is exceptional. You can't put a price on that—that's just amazing."
During the graduation ceremony, Colonel Yori R. Escalante, Deputy Commander Marine Corps Installations East, stated, "To the Commanders and staff from the units that provided these Marines who went through this program, I thank you. They understood the importance of ensuring our Marines are 'transition ready' and released their Marines for 18 weeks to participate in this extremely valuable program." That release for 18 weeks is a sacrifice for the base commanders—there is no doubt about that—but they understand what is at stake, and today, they are proud to see their Marines graduate, and more importantly, they rest assured that those Marines will be part of the highly skilled piping profession of the United Association.
The program's eight graduates worked hard under the tutelage of their Welding Instructor, David "Mike" Cummings. Mike has 40 years of experience as a pipefitter/welder and is a member of Local 421 in Charleston, SC. He is a Vietnam veteran, who served in the USMC 3rd BN 26th Marines. The admiration between the class and Mike was clearly evident when the graduates presented him with a token of their appreciation—a plaque with a Marine helmet mounted on top. The helmet had the Kevlar embroidered names of the eight graduates, and the plaque read, "Once a Marine, Always a Marine" VIP Class 1, 2014, Thank you, David "Mike" Cummings. Mike said, "I love these guys. I will do this for as long as I can." Mike was lured out of retirement to be the Lead Welding Instructor for the program at Camp Lejeune. As the graduates hugged him hard, they all stated they would stay in touch. Corporal Jason Price said, "He has such a big heart. In the beginning, we were all a little intimidated. Now, we hate to leave."
The UA's VIP program has been successful because of two things—its people and the unrelenting commitment they have all shown to make this program work. From UA General President William P. Hite to the Training Specialist, Mike Hazard, who runs the program, to the instructors at the bases, to the Business Managers at the locals where the graduates are assigned, to the contractors who will ultimately employ them—they are all believers in this program, and that's why it works. It's that undeniable belief in one another. The graduates feel it, and that's why the program stands as the model for everyone to emulate. Sergeants Major Berry stated that he would love to see the program at military installations worldwide. He added, "I'm very confident this will be the premier program in all the armed forces." For the 700-plus VIP soldiers who have graduated—it already is.