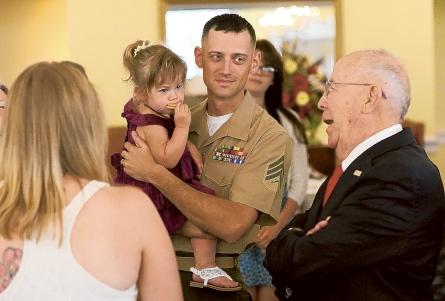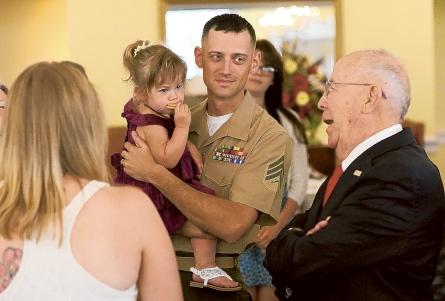 A new program guarantees Marines jobs as they transition out of the military to the civilian world.
The initiative, called DOD SkillBridge, provides service members with an 18-week pre-apprenticeship training conducted by United Association of Plumbers, Pipefitters, Sprinkler Fitters and Service Technicians (UA).
UA's program, known as Veterans in Piping, focuses on the trade of welding.
Fourteen Camp Lejeune Marines, from the program's second class, graduated on Thursday in a ceremony at Paradise Point Officers Club.
The graduates and their families expressed relief that this program alleviates many of the worries that accompany exiting the structured military lifestyle.
Sgt. Damian Gilbert, a Marine rifleman, has served in the military since 2006 — he made the decision to transition because he started a family.
Gilbert started the class with "zero" knowledge of welding. After completing the training, he said "I feel confident that I can go to work and make my bosses proud."
He is also thankful for the opportunity to smoothly start his next chapter. "I'm giving up good decent pay, healthcare and a good sheltered life — now going out into the unknowns," he said.
"This program basically took that (unknown) away and gave me a smooth, easy transition. "And a good future to go into."
Marleigh Cattaruzza, wife of Cpl. Marcus Cattaruzza, said it is "more than comforting" to know that her husband has a career waiting for him when he exits the service May 1.
"It's just been wonderful," Cattaruzza said. "I'm happy he's getting the adequate training that he needs to be successful out in the world because … once you get out nothing is guaranteed.
"He's going somewhere where he is going to be taken care of."
Chris Haslinger, director of Training for UA, said the program started in 2008 after the company's general president, William Hite, recognized the struggles veterans were having in finding gainful employment.
The apprenticeship ensures 100 percent job placement.
"They don't have to worry about what they are going to do when they leave. They are going to go to a job — a good paying job, healthcare and a retirement plan," Haslinger said.
"We gain individuals who are dedicated and they've got great work ethics. It's a win-win for both of us.
"To be able to offer them an opportunity after they served our country is really important to us."
The next class starts on April 27 — information can be obtained from Camp Lejeune's Education Center by calling 910-451-3091.
By Bianca M. Strzalkowski - Bianca.Strzalkowski@JDNews.com