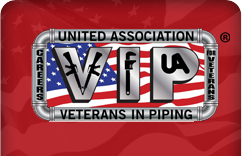 Sixteen Fort Carson service members are better prepared for the next phase of their lives following military service after completing the 18-week United Association of Plumbers, Pipefitters, Sprinkler Fitters, Steam Fitters and Service Technicians (UA) Veterans in Piping (VIP) Program.
The UA VIP Program offers classes for transitioning active duty military personnel through an intensive course focused on welding while they're still in uniform. Once graduates move into civilian life, they will land apprenticeships in the plumbing and piping trades at any UA Local across the country featuring a training center.
The UA VIP Program is free to the service members, and the military covers their paychecks while the union teaches them four days a week. After troops graduate, they are first in line for an apprenticeship with the UA.
The Pentagon has said it spends more than $1 billion annually on unemployment benefits for veterans. Programs like the UA VIP help avoid unemployment among military members by training and providing service members the skills needed to be successful in a career in the trades.
"It's programs like this that address the problems veterans face," US Army Fort Carson's Command Sgt. Maj. Clinton Reiss said.
United Association Veterans in Piping Training Specialist Micheal Hazard said the union gets great pipefitters and plumbers in exchange for the training expenditure.
"These are the best applicants in the world," Hazard said.
After graduation from the UA VIP Program, newly transitioned veterans will complete a five-year apprenticeship with regular classroom and on the job training before earning the classification of Journeyman. While the training is extensive and takes many years, a livable wage and health benefits are provided on day one of all apprenticeships.
If you're an active duty military member interested in learning more about the UA VIP Program click here.
If you're a veteran looking for a lifelong career that offers exceptional benefits and earning potential click here.