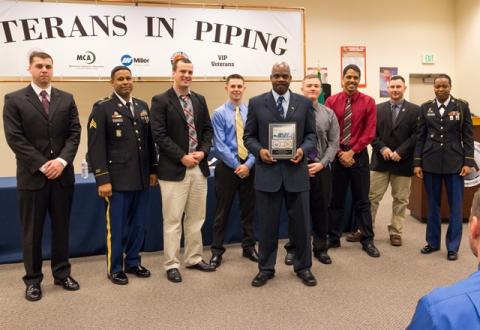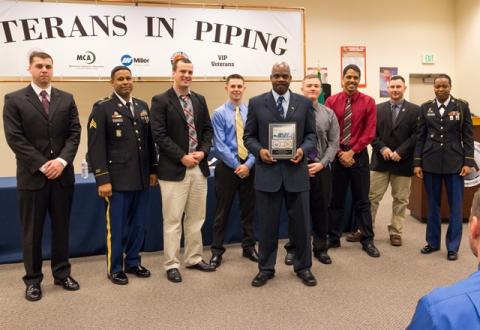 When veteran William McLaurin left the Army in 1985, he never imagined he would have another opportunity to serve 27 seven years later
"I am extremely grateful," said McLaurin, Heating, Ventilating, Air Conditioning and Refrigeration instructor with the United Association's Veterans In Piping program at Joint Base Lewis-McChord, Washington. As one of the Army's industry partners, the program provides Soldiers a chance to learn a new skill before leaving the service and offers entry to paid apprenticeship programs in welding, plumbing, heating, ventilation, air conditioning and refrigeration. "It's a great opportunity for me to help our Soldiers transition into the real world; I feel like I'm still serving," said McLaurin.
According to the Department of Defense, 130,000 Soldiers will transition annually from the Army to the civilian workforce over the next 10 years. Even with the current unemployment rate and the high numbers of transitioning Service members, McLaurin believes graduates from the UA VIP program should not have any problems finding employment.
"I'm glad the Army is preparing these Soldiers for civilian life. When I reflect on the time I separated from the Army, there's no comparison," said McLaurin. "There wasn't a real push to ensure you transitioned well, you did your time and then you got out."
With the motto, 'Start Strong, Serve Strong, Reintegrate Strong and Remain Strong,' the Army is working to ease the transition into civilian life with a program that helps Soldiers plan ahead for their whole career: Soldier for Life. The program is based on the Soldier lifecycle. Soldiers start strong, serve strong, and reintegrate strong, and ultimately remain strong as Army ambassadors to their communities. The Soldier for Life concept is a holistic approach to this entire cycle, which ensures veterans connect to resources and their communities as they make the important transition from active duty back to the Army Reserve, National Guard or the civilian workforce.
The Army collaborates with training and employment programs to help Soldiers learn occupational skills to become career-ready, through employment skills training, credentialing and apprenticeships. When Soldiers and their Families leave the service, they leave prepared with a network of people and organizations that will connect them to employment, education and health care — Soldier for Life's three pillars of successful reintegration.
"(The Soldier for Life) Career Skills Programs marry our Soldier's talent and experience with the demands and employment opportunities available in a variety of industries nationwide," said Marnie Holder, Chief, IMCOM Soldier for Life Fusion Cell. "It's truly a win/win for all involved."
As an instructor, McLaurin uses every opportunity to draw from his experiences in the Army to inspire his students to remain Army Strong. "When my students ask me if I was scared when I left the Army, I say yes, and explain to them they did not have all of the training programs and resources they have now," he said.
McLaurin tells his students that UA VIP is a way for them to start a new successful career and avoid unemployment, which is common among many veterans. After teaching civilians for 12 years and, now, teaching transitioning Soldiers, he says there is a difference in the caliber of military students.
"Military people are always noticeable," McLaurin said. "Soldiers come with a 'Can Do' attitude. On the job and in the classroom you can tell who was in the military before even confirming the answer. I see it in my UA VIP students; they have a unique experience that really develops their skills a lot faster than their civilian counterparts. They have leadership skills and are hungry, ready to transition."
McLaurin credits his Army experience and values for becoming a top performer throughout his civilian career. "I remember the mantra, 'we do more before 9 a.m. in the morning.' The ability to get up early in the morning, discipline, leadership skills and my work ethic, it was those values that allowed me to move up the ladder," said McLaurin.
Joint Base Lewis-McChord established the first Army pilot Career Service Program - the UA VIP Welding and Heating Ventilation and Air Conditioning program. Each program, which lasts 18 weeks, allows Service members to train with the union while they are on active duty so they already have the training and jobs to step into when they separate from the Army. Service members from any military occupational specialty are eligible for the program.
Currently, there are 4 UA VIP programs on Army installations: JBLM; Fort Campbell, Kentucky, Fort Carson, Colorado; and Fort Hood, Texas, with many more programs in the pipeline to follow. For more information about the U.S. Army's Soldier for Life program visit: www.soldierforlife.army.mil/employment.
By Ganesa Robinson
IMCOM Marketing Communications