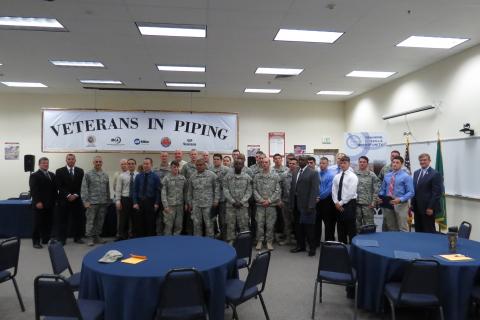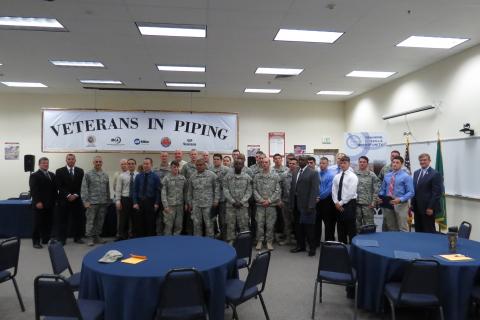 The United Association of Plumbers, Pipefitters, Sprinkler Fitters and Heating, Ventilation, Air-Conditioning and Refrigeration Technicians (UA) continues its mission to train and employ members of America's Armed Forces. On June 26, 2014, 26 Joint Base Lewis-McChord (JBLM) Army soldiers, who were all trained while still on active-duty, climbed the stage to accept their certificates of completion from the UA's award-winning Veterans in Piping® (VIP®) program. It was another graduation that UA and JBLM dignitaries, as well as UA contractors, will remember for years to come. VIP Training Specialist Mike Hazard stated, "It is always a great honor to witness the men and women who have fought so hard for our country start on a new path that includes great benefits for their families, good pay, and guaranteed employment. It has been our mission, as a union, to train and employ as many heroes as we can. Our programs are currently at four bases, and we will soon be adding two more by the fall of this year. As UA General President Bill Hite says, 'It's the right thing to do.'" Veterans, who are still on active-duty, attend the UA's training for free. The training is paid for through a joint venture of the UA and its signatory contractors.
The UA's JBLM VIP Welding and Heating, Ventilation, Air-Conditioning, and Refrigeration (HVACR) programs are held on base (HVACR) and at Local 26 in Lacey, WA, (Welding). The program is an intensive 18-week program that concentrates on welding skills and HVACR technician skills, which are two skill sets that are currently in great demand. These veterans will "earn while they learn" in the UA's coveted, five-year local union apprenticeship program to become skilled UA journeyworkers. They receive credit for the intensive VIP program toward their local union apprenticeship as United Association pipefitters and HVACR technicians. Graduates of the VIP program enter the apprenticeship program with job-ready skills and immediately begin employment, through their local unions, upon graduation.
VIP Welding graduate Nathaniel Hansen addressed the attendees at the graduation ceremony, "Everything we have learned in the past 18 weeks is going to put us way ahead of our peers when we get to our next location, and for that, I couldn't be more grateful. Knowing you have a stable, well-paying job in a career that actually interests and fulfills you, puts your mind at ease. This is especially crucial in a time of uncertainty. Leaving the Army is a daunting task, akin to leaving your parent's house for the first time. Sure you're excited, but the amount of uneasiness you feel is palpable. Thanks to the United Association, this course, and the amazing support group we have—the majority of that stress has been taken away."
The graduates have all been placed in local unions where they wanted to go. They are on their way to a fulfilling, lifelong career with the United Association.