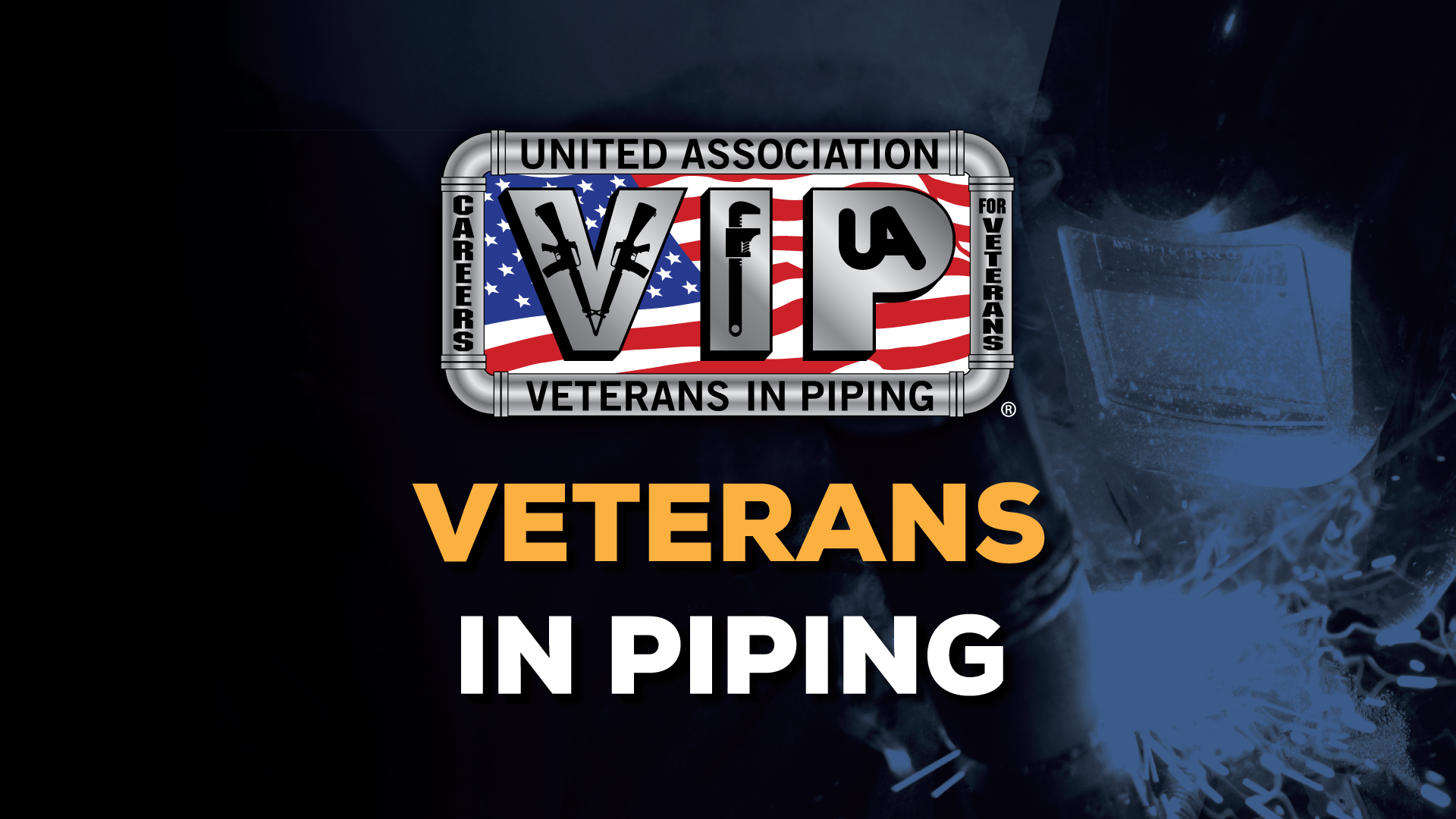 By Mike Hazard, UA Training Specialist
The men and women of the U.S. Armed Forces provide an invaluable service to the U.S. and our nation owes them a great debt. Over two million of our veterans have served since 2001, and many are now returning home only to face unemployment rates that are double—and sometimes triple—that of the civilian population. We can and we must do better. These heroes have fought for their country and they should not have to fight for a job when they come home.
Transitioning back into civilian life is often a challenge for military service members, which is one of the reasons for their high unemployment. Without support structures and other necessary assistance, including skill training and job placement, military service members often have difficulty finding good jobs and long-term careers.
These troubling unemployment numbers prompted the development of a unique solution by the United Association of Journeymen and Apprentices of the Plumbing and Pipe Fitting Industry (UA), a multi-craft union whose members are engaged in the fabrication, installation and servicing of piping systems. In 2008, UA General President William P. Hite established the Veterans in Piping (VIP) Program, one of the only programs of its kind that offers high-quality skills training and guaranteed job placement for active duty military personnel preparing to leave the service. The program helps service members' transition seamlessly from the military into a guaranteed career with a living wage and full health and retirement benefits.
Training service members for lifelong careers
Hite created the UA VIP Program to address two important issues: (1) an exceedingly high unemployment rate for veterans, despite their being a disciplined and highly trainable population; and (2) a growing shortage in the construction industry of skilled workers due to the combined effects of an aging workforce, increased demand, and lack of skills training for youth.
The UA VIP Program offers specialized, accelerated (18-week) courses in welding and Heating, Ventilation, Air-Conditioning and Refrigeration (HVACR) service. Currently, both fields are experiencing an increased demand for skilled workers. Participants earn industry-recognized certifications and college credit as a part of their education, and gain direct entry into top industry apprenticeship programs following graduation. The quality of the candidates coming out of the UA VIP training programs offer a prime opportunity for contractors to employ entry level apprentices with real industry job-skills. All training is paid for entirely by the UA and its contractor partners, at no cost to service members.
Military and government officials have lauded the VIP Program as a model in workforce development. The program has earned the praise of the U.S. Congress, Department of Labor, Department of Defense, and Military Officers Association of America (MOAA). In 2011, Hite received the Distinguished Service Award from the MOAA on behalf of the UA for this program. This was the first time in the organization's 84-year history that a labor leader has been awarded with such recognition.
Hite is extremely proud of the UA for its leadership in creating the program.
"From the beginning, we believed that our VIP program could serve as a gateway to a new life for our veterans. We believed our veterans have earned the right to a secure future and a life of opportunity," Hite said. "We know that we can never really repay our military men and women for the extraordinary service they have given our nation. But, in fact, there was something the United Association actually could do to thank these fine individuals. We could set them on a path that would lead to a lifelong career. And they can rest assured that they are part of an enduring brotherhood with a long and powerful tradition of excellence and mutual support."
Equipping veterans with in-demand skills
The most recent graduation for the UA VIP Program took place on August 20. This was the UA's first on-base HVACR class for active-duty military at Joint Base Lewis-McChord (JBLM). Nathan Tiemeier, a 20-year veteran of the U.S. Army, was among the graduates. Tiemeier, now a member of UA Local 162 in Dayton, Ohio, gave a heartfelt testimonial during the graduation ceremony.
"The VIP program has given us the opportunity to transition directly into a career with knowledge that can immediately be put to use. This program has relieved me of the stress and uncertainty that many veterans face as they transition to civilian life," Tiemeier said. "To my brothers and sisters in arms for the last 20 years, I will never forget you. The learning and experiences we shared will forever be in my heart. To my brothers and sisters of the UA, I look forward to the next 20 years growing and learning beside you—thank you. Army strong, UA all the way."
Designed to provide cutting-edge skills that are in high demand in today's construction and service industries, the UA VIP Program offers valuable training and career assistance to veterans and long-term security for their families. That's not all. Contractors who hire VIP graduates are consistently impressed with their discipline, motivation and high levels of training.
According to Kip Bagley, vice president of Service for Emcor Service/Mesa Energy Systems, HVACR contractors have been feeling the pressure due to the lack of qualified candidates necessary to fill the void from the impending baby boomers' retirement.
Bagley stated, "The UA has created an outstanding pipeline to get talented newcomers who have honorably served our country and who possess sufficient HVACR training to understand the field and its rigorous demands."
"I cannot think of a better way for the UA and contractors to support our military," said Bob Lake, president of Emcor Service/Mesa Energy Systems and chairman of the Board of Governors of the Mechanical Service Contractors of America. "As a contractor, you're getting a mature, disciplined employee who chooses the HVACR industry, wants to work in your geographic area, and has completed his first year of apprenticeship equivalence through the VIP program. It's almost like it's too good to be true. We have already hired two VIP HVACR graduates and plan on being active in this program forever."
The VIP program has placed hundreds of veterans in welding and HVACR jobs in the U.S. Currently, the program is offered at Camp Pendleton, Calif.; Joint Base Lewis-McChord, Wash.; and Fort Carson, Colo. The UA is working to expand to additional areas as well.
Learn more about how the UA is helping America's transitioning military service members build a strong future at www.UAVIP.org.
Mike Hazard is responsible for the oversight of the United Association's Veterans in Piping (VIP) Program. He is also a veteran of the U.S. Navy.