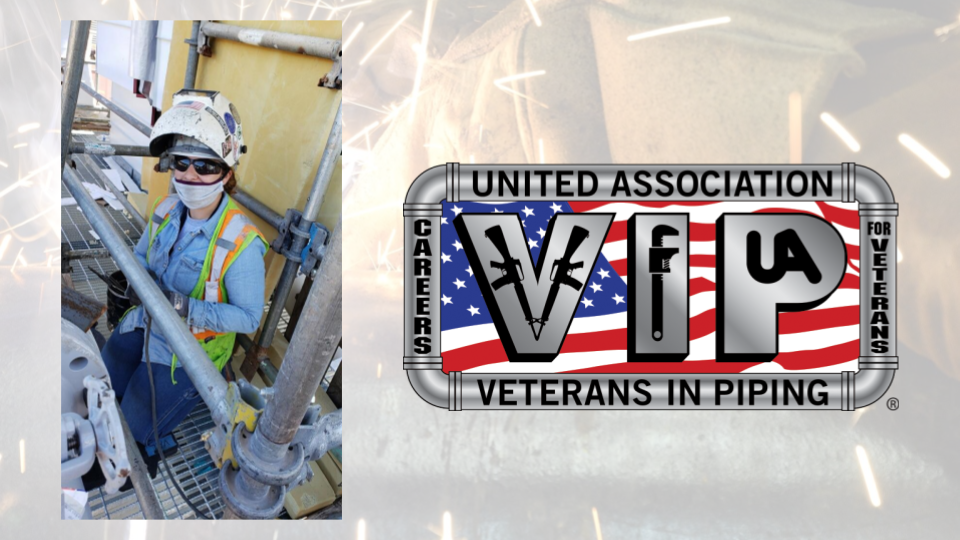 During a time when employment is unstable in the U.S., the United Association Veterans in Piping helped this VIP graduate find quality employment.
While the COVID-19 pandemic has caused many people to be laid off from their jobs, building and construction trades jobs, like those attainable after graduating from the UA VIP Program, have remained a great source of income despite the pandemic.
Open to all active-duty transitioning military service members, the UA VIP Program is a free 18-week SkillBridge program, aimed at preparing participants for a career in the pipe trades as they enter the civilian workforce.
Army Sergeant Maria Imamura is now a second year UA apprentice, and a member of UA Local 58.
Imamura said a job was waiting for her when she graduated from the VIP Program and made a successful transition out of the armed forces. Since beginning her career in the pipe trades, she has worked at a liquified natural gas plant, a paper mill and will soon be starting a job at an ambulatory care clinic.
As a VIP graduate, Imamura is encouraging other active-duty transitioning military service members to take on the challenge of the VIP Program. With steady work and a valuable paycheck, the pipe trades are a great path for transitioning service members.
After graduating and transitioning out of the armed forces, VIP participants are guaranteed job placement with a UA signatory contractor. With contractors experiencing a shortage in skilled labor, the VIP Program is a great way to close this gap, while providing veterans with a quality career.
The benefits of graduating from the VIP Program do not end with job placement with a UA signatory contractor. VIP graduates are also guaranteed direct entry into the five-year UA apprenticeship program. Here they will build on their skillset through on-the-job training, as well as classroom instruction.
The benefits, which come with a career in the UA, are valuable to all their members, as they earn a livable wage with scheduled pay raises and benefits, such as family health insurance, a 401k and a pension.
To learn more about the UA VIP Program at Joint Base Lewis-McChord, click here.