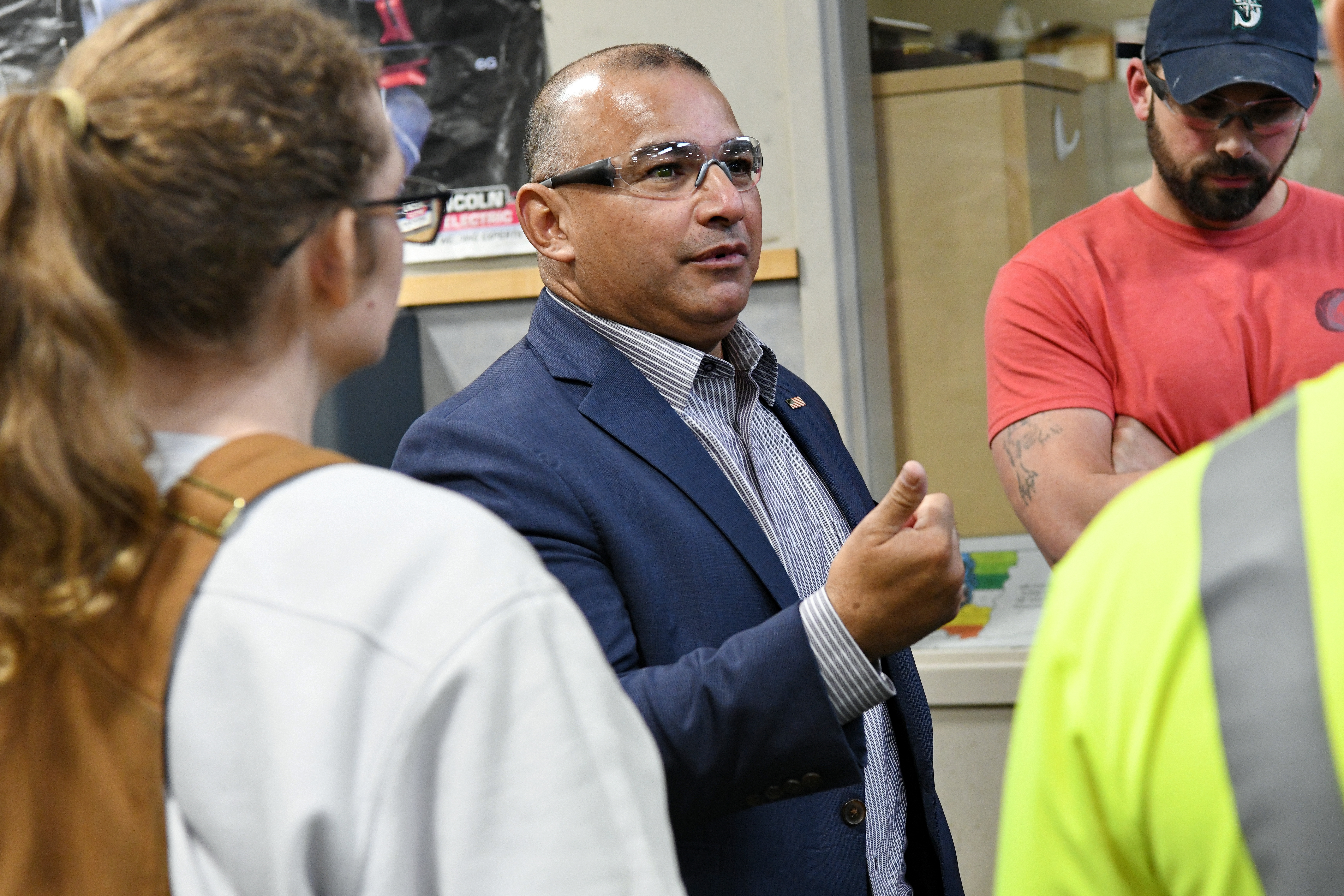 The Joint Base Lewis-McChord United Association Veterans in Piping (UA VIP) program proudly hosted U.S. Department of Labor (DOL) Veterans' Employment and Training Service (VETS) Principal Deputy Assistant Secretary for Policy James Rodriguez.
VETS is an agency within the Department of Labor, and as the principal for VETS, Mr. Rodriguez is responsible for preparing America's veterans, transitioning service members and military spouses for meaningful careers.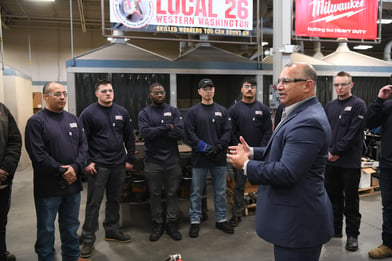 Mr. Rodriguez was joined in his visit by Washington State DOL VETS Director Shannon Langley and Assistant Directors Christina Vine and Diana Hunter. UA International Representative John Kierce and UA Local 26 Business Manager Todd Taylor were on hand to welcome Mr. Rodriguez and his team to the Western Washington Apprenticeship Training Center in Lacey, Wash., which has been the home of the JBLM UA VIP program since it started in 2008.
The Joint Base Lewis-McChord (JBLM) UA VIP program offers training in welding and HVACR to transitioning active-duty service members during their last few months of service commitment. The program prepares members of the military for civilian careers in the pipe trades once they transition out of the armed forces.
"The purpose of the DOL VETS visit to the JBLM UA VIP program was to review JBLM employment initiatives, and the UA VIP program was selected to highlight best practices and give the VETS Team a look at a hands-on training facility with service members engaged in training that prepares them for their post service careers with the UA," said UA International Representative Kierce.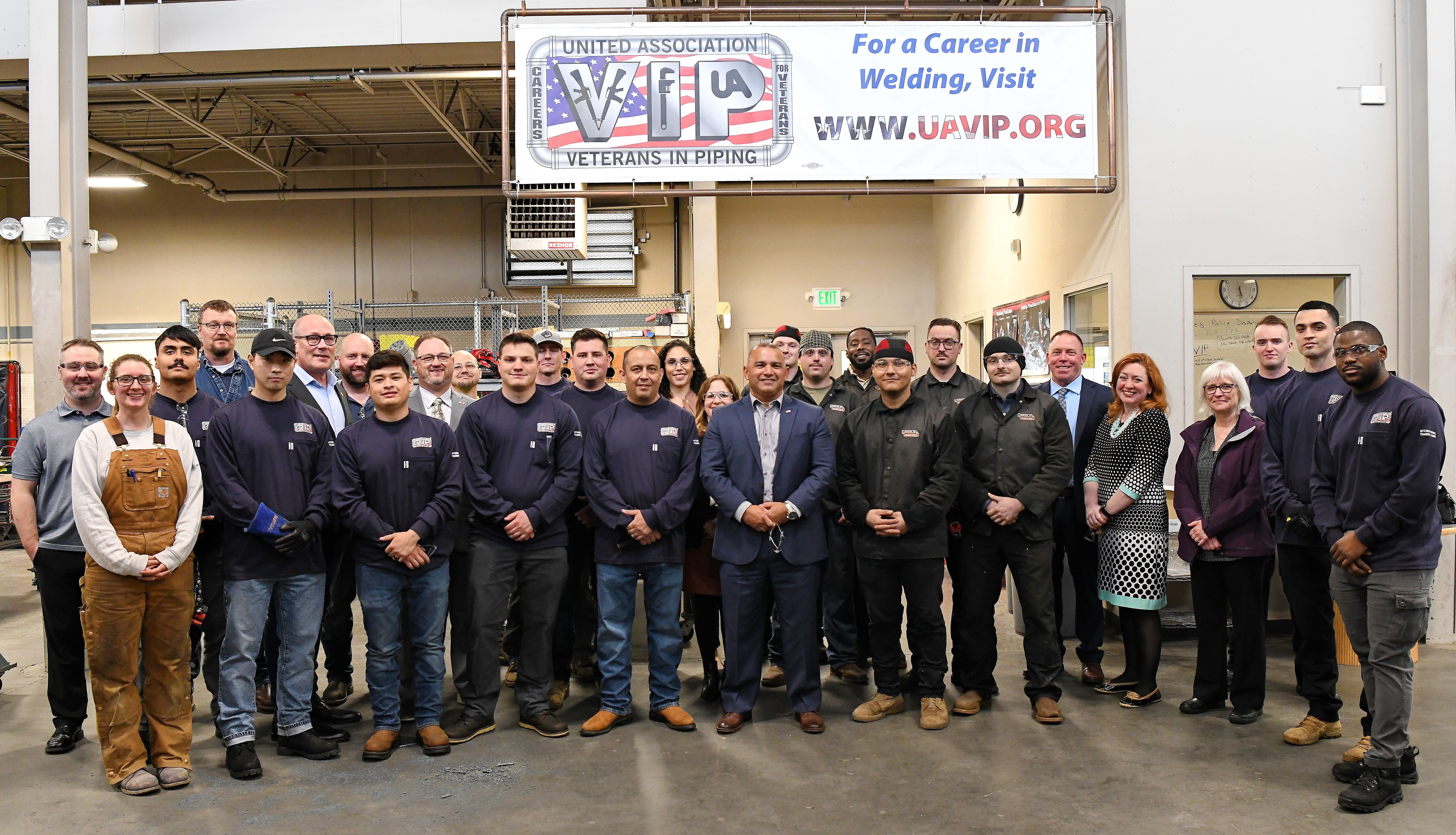 "It was a pleasure to talk to Mr. Rodriguez and watching him shake hands and communicate with every student," JBLM UA VIP HVACR Instructor David Gibson said. "He listening to some of the obstacles that they had to go through to attend the VIP program with a genuine concern."
U.S. Army Sergeant and HVACR VIP student Jose Esparza felt it was important to speak with Mr. Rodriguez.
"Meeting and speaking to Mr. Rodriguez provided us the opportunity to address the challenges we face when determining a path for employment after the military," said Sgt. Esparza. "Additionally, we were able to discuss the value of the UA VIP program and its ability to set service members up with careers that will provide a living wage and ultimately a successful transition from military life."
U.S. Marine Corps Corporal James K. Elliott is an HVACR VIP student who talked about his struggles.
"I felt that the issues I brought up, being a Marine from Yuma, Ariz., about the struggles I had to deal with to get here and the struggles that will come once I EAS was taken note of," Cpl. Elliott said. "I look forward to seeing future Marines having easier access to have the opportunities that I'm taking part of."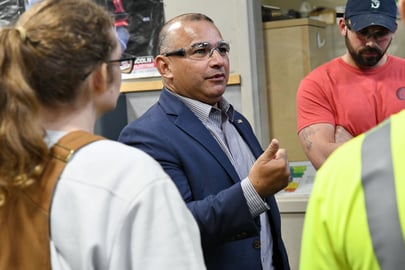 U.S. Army Sergeant First Class and HVACR VIP student John R. Warnke felt the visit was inspirational.
"Mr. Rodriguez's visit was a great inspiration for a couple reasons," said Sgt. Warnke. "The first was seeing a former enlisted member of the military in a high position, continually pushing to better the transitions and futures for other military personnel. The second, is hearing about all the areas he is working that we weren't aware of as students. It is great to know that we, as military members, have someone who understands our difficulties with transitioning to the civilian sector and is fighting for us while we focus on our futures."
"You can get far in politics even as an enlisted soldier, so don't let society deter you from things that may seem unattainable when they actually are attainable," added U.S. Army Sergeant Dominique Hardaway.
UA Local 26 was honored to host the DOL VETS contingent.
"UA Local 26 thanks James Rodriguez with the DOL VETS and Shannon Langley with Washington State DOL VETS for taking the time to visit Local 26's facility and speak with the current class of veterans," said Local 26 Business Manager Todd Taylor. "UA Local 26 is proud to have been a part of the UA VIP program from the very start and ask the DOL VETS to continue to support transitioning veterans by making sure they have access to programs like the UA Veterans in Piping program."