Participants in the United Association Veterans in Piping Program Fort Hood Welding Class 12 have nothing but good things to say about the 18-week accelerated career-training program, which has taught its participants valuable welding skills.
The course, which is free, is open to active-duty transitioning military service members and provides participants who successfully complete the program and transition out of the armed forces with a guaranteed job in the piping industry that pays livable wages and provides excellent health insurance and retirement benefits.
With less than a month to go, participants are working toward earning industry-leading welding certifications that will be put to use on the jobsite.
"This course is really great in terms of taking someone who has never welded before and teaches them the basics," said Class 12 member Lane Connor. "(UA VIP Fort Hood Welding Instructor) Alvin does a really great job showing us how we are supposed to do certain things. He even shows us what we are doing wrong and how we can correct it."
"UA VIP taught me how to perfect my skills as a welder, not only to look pretty but to easily pass tests," Cameron Walker, Class 12 participant said. "Anybody who has the chance to take the program should. The education taught on welding and general knowledge on all hand tools that belong to the trade has helped tremendously. Nothing but good comes out of this school."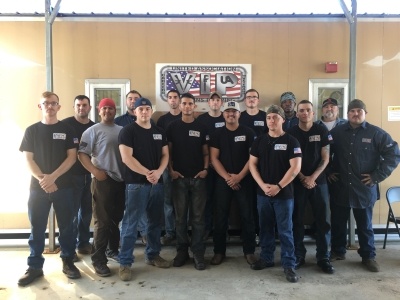 During the class, students learn about the work that welders perform, which includes installation, maintenance and repair of all types of piping systems, as well as joining structural steel brackets and supports for such systems. They learn to read blueprints, drawings and job specifications. Other hands-on experience they gain includes the ability to measure, cut and weld using various welding methods and tools.
"So far, I believe that the course has sharpened the skills I already had in terms of 'shop skills', but coming into the program without ever welding before, I was worried," said Aaron Johnson, Welding Class 12 participant. "Our instructor did a good job going over the basics of the hand tools, torches and safety. In regards to the actual welding, each student develops skills at their own pace."
Johnson said the UA VIP Program is very hands-on, which is what he likes most.
"We weren't restricted to welding in a specific way, we were able to develop our own techniques, but if we got stuck or had trouble, Alvin would make suggestions or show us personally how we could improve our skills," he said.
The current class is expected to graduate on Nov. 21. Graduates who complete the course and transition out of the military will enter into a five-year registered apprenticeship and become employed by a UA signatory contractor in an agreed upon geographical location.
During their apprenticeship, the students will take what they have learned during the UA VIP Program and build upon it during their on-the-job training and additional classroom instruction. As they work their way toward achieving journeyman status, they will receive pay raises based on their new skill level.
Welding Class 12 member Jeffery Morgan called the UA VIP Program excellent.
"The duration of the training is perfect," Morgan said. "The instructor is very knowledgeable, patient and understanding. The program not only provides jobs, but life-long skills."
If you are a transitioning active-duty military service member and want to learn more about the UA VIP Program at Ford Hood, click here to submit your information.