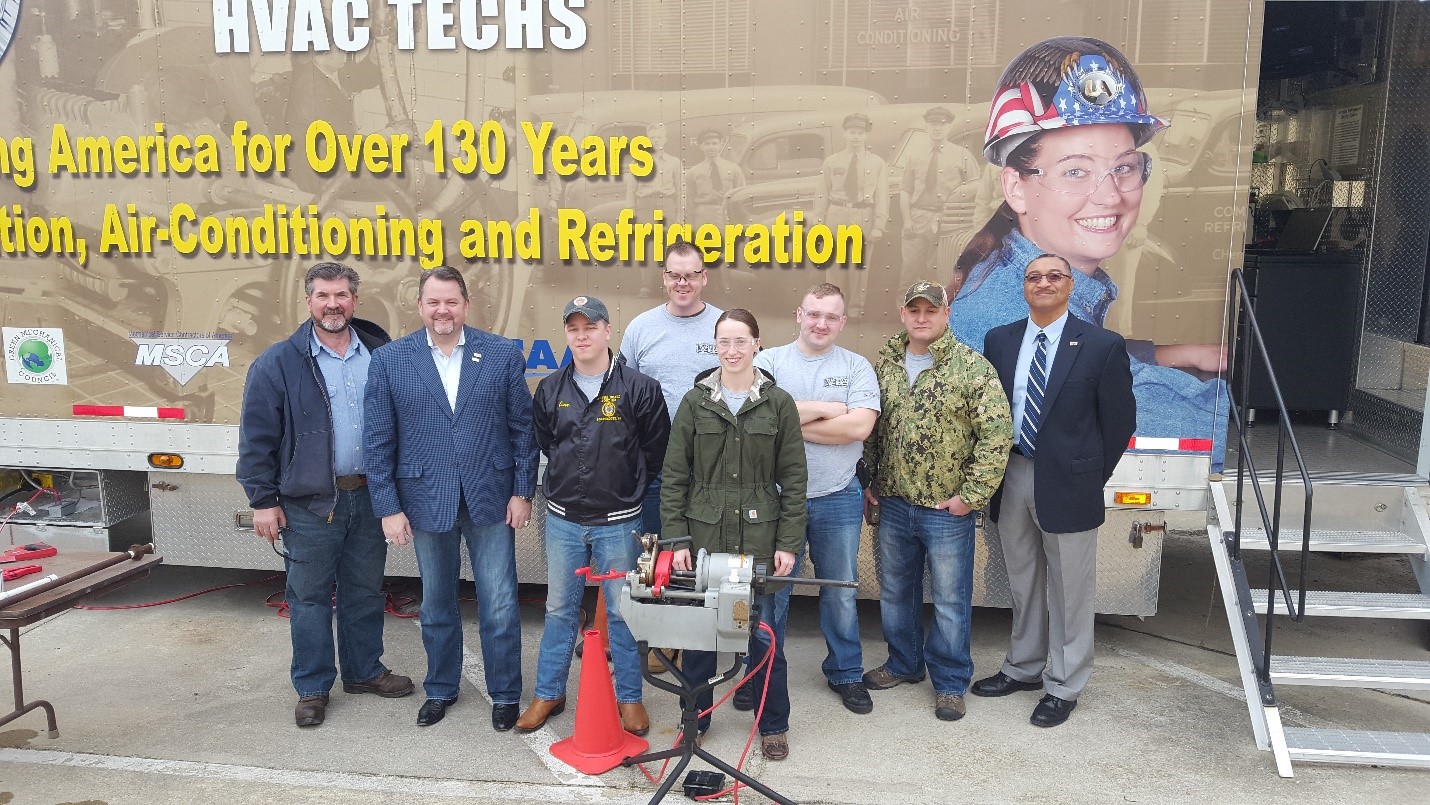 Members of the United Association's Veterans in Piping HVACR Program at Naval Station Norfolk received a special visit on Feb. 6.
Matthew M. Miller, who serves as the Deputy Assistant Secretary – Policy for the U.S. Department of Labor Veterans' Employment and Training Service (VETS), along with Virginia Assistant Director of VETS, Tony Cropper, observed members of the VIP HVACR program in action. Miller and Cropper wanted to see firsthand how the SkillsBridge Program, which is available to active duty military transitioning service members located in Hampton Roads, trains participants in the pipe trades.
They received a tour of the Naval Station Norfolk UA VIP training facility, met members of HVACR Class 6 and observed demonstrations of the skillsets learned by the students. The Sailors participating in this class also shared their perspective on what it is like to be in the UA VIP Program and how it has impacted their lives.
Miller and Cropper learned how the program reduces the stress of transitioning out of the armed forces. The VIP students explained how the UA VIP Program will guarantee them a job with a UA signatory contractor in an agreed upon geographical area. While many of their transitioning peers are dealing with the stress of trying to find a new job, those who successfully complete the UA VIP Program receive direct entry into a UA apprenticeship program and have a job waiting for them upon transition from the military.
In addition to guaranteed employment, VIP graduates continue to receive free high-quality skills training at an agreed upon UA Training Center as an apprentice. Throughout their UA apprenticeship, they will receive yearly wage increases as they progress through the apprenticeship program, as well as excellent health and retirement benefits.
According to data from the Bureau of Labor Statistics, the unemployment rate for Gulf War II-era veterans is falling. While February was the first month since the Great Recession when the overall employment rate was higher than the unemployment rate for Gulf War II-era veterans, there is no guarantee it will remain below the national average.
The UA VIP Program is dedicated to helping reduce the number of unemployed veterans by providing this free 18-week career skills training program to transitioning military service members. While other transitioning service members struggle with the stress of finding a good paying job with benefits to take care of themselves and their families, UA VIP graduates can simply focus on the transition back to civilian life.
Transitioning military service members or those planning to separate from the military in the near future that are interested in more information about the UA VIP Program can click here to learn more.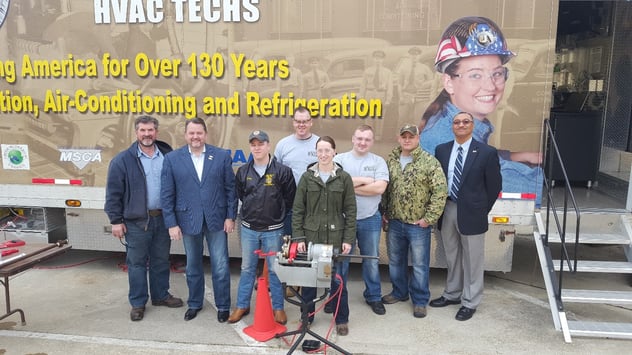 L to R: Marvin Donnell ( UA VIP Instructor), Mr. Matt Miller (Department of Labor), Evan Yessick, Steve Davis, Jennifer Schultz, Brandon Hutton, Jack Lane and Mr. Tony Cropper (Department of Labor).