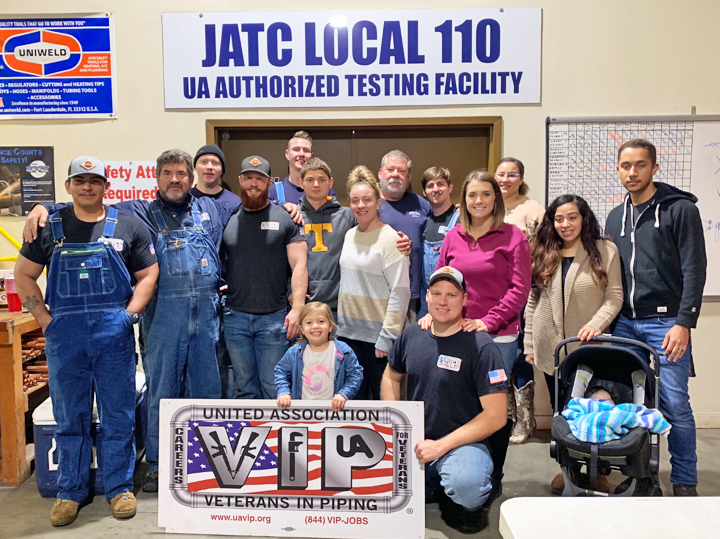 A late November graduation ceremony recognized the hard work of the United Association Veteran's in Piping (UA VIP) Program Naval Station Norfolk HVAC-R Class 10.
The Nov. 27 graduation ceremony recognized eight members of the 18-week SkillBridge program, who learned basic HVAC-R skills.
The active-duty transitioning military service members who graduated from HVAC-R Class 10 are guaranteed job placement with a UA signatory contractor, who will pay them a livable wage. Working for one of these contractors yields great family health insurance and retirement benefits, such as a 401k and a pension.
Combined, the good wages and benefits help the graduates take care of their family.
Providing transitioning active-duty military service members with this opportunity allows them to avoid the stress of trying to find a career in the civilian world. By providing training and direct entry into the piping industry, the program helps close the current skills gap faced by the skilled trades within the United States.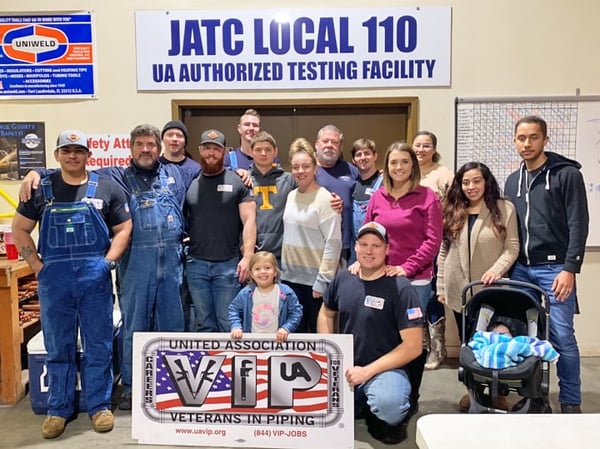 Anibal Palacios, a Marine Sergeant and graduate of HVAC-R Class 10, is excited for what his UA career holds.
"I think there will be a similar camaraderie that I have with the people in the military," said Palacios. "I expect great things!"
In addition to job placement with a UA signatory contractractor, all graduates of the VIP Program gain direct entry to the five-year UA apprenticeship program. During this apprenticeship program, graduates will build on their newly found skills through on-the-job training and classroom instruction.
During the HVAC-R Class 10, members learned entry level HVAC-R skills, which will help them have a successful career within the UA. Participants learn from instructors in the classroom and then get the opportunities to practice the trade, hands-on in a lab.
"My favorite part has to be the brazing," said Palacios. "I never used a torch in my life, but a little practice and a great instructor, now I'm certified!"
In addition to learning the techniques of the trade, participants in the class can earn industry certifications, making them prepared from the first day that they step on the jobsite.
To learn more about the VIP Program and the seven participating bases, click here.