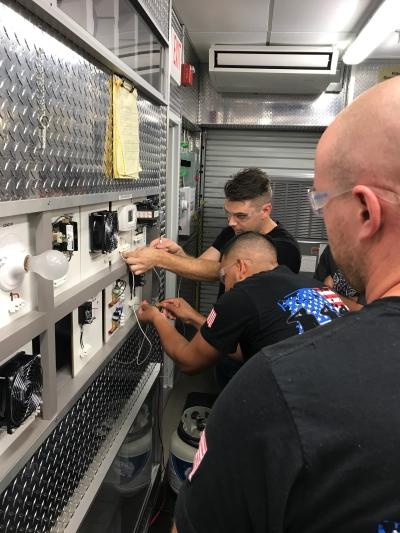 The United Association Veterans in Piping Program Naval Station Norfolk began its latest HVAC-R Class on Oct. 15.
UA VIP Naval Station Norfolk HVAC-R Class 8 consists of 10 students, including one marine and nine sailors. It is a free career-training course that instructs transitioning active-duty military service members on the basics of a career in the heating, ventilation, air conditioning and refrigeration industry. The course will conclude on Feb. 21, 2019.
Participants in this accelerated 18-week course learn basic installation and maintenance principles for heating and cooling systems of all sizes for residential, commercial, institutional and industrial applications. To perform this type of work, students develop job-specific skills such as gas piping installations, working with high-voltage electrical components and testing, analyzing and start-up of systems.
The UA VIP program proudly trains transitioning active-duty military members with skills that allow them to immediately return to the workforce once they re-enter civilian life. The program guarantees each participant a job in an agreed upon geographical location after their graduation and successful transition out of the armed forces. When graduates go to work for a UA signatory contractor, they will earn livable wages, great health insurance and excellent retirement benefits such as a 401k plan and a pension.
Thanks to the UA VIP Program's guarantee of employment, over 1,900 of military members across America have avoided the stress and struggles often faced by transitioning active-duty military service members.
UA VIP graduates also enter into a five-year United Association apprenticeship program, where they receive classroom instruction, in addition to on-the-job training, to help them expand their skillset and gain a better understanding of the piping industry.
Transitioning active-duty military service members can submit their information by clicking here to learn about the Naval Station Norfolk UA VIP Program.