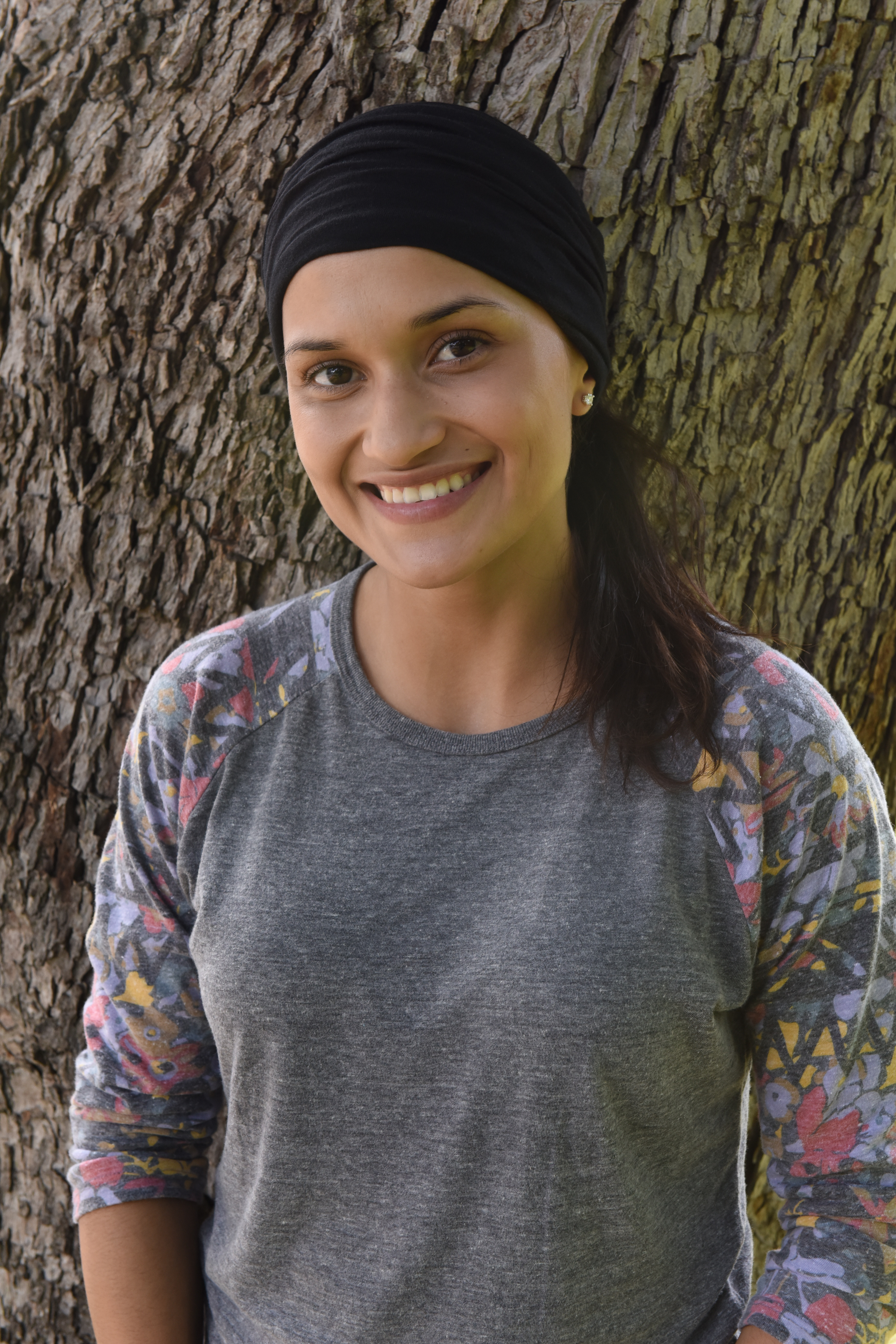 Melissa Martinez grew up in a small town outside of San Diego, CA. When she graduted from high school, she knew she didn't want to stay in that small town. Going to college wasn't an option. She just didn't have the interest. She was feeling trapped and didn't want to end up like many of her friends— a young mother lacking the ability to earn a good living. She decided to join the Army. She viewed this decision as an opportunity to advance and to acquire skills and maturity that would benefit her later on—and that it did.
"I graduated from high school in 2011 and joined the Army in 2012," she said. "After boot camp, my first and only duty station was Fort Hood in Texas, and I was there for six years." Melissa's specialty involved working on radios and setting up communication stations for her unit. She said, "When I did the testing for potential roles in the Army, they came up with a few options. One of them was a cook, but that came with Airborne, and I knew I didn't want to be jumping out of planes. When I joined, I knew there was potential for deployment, and there was some hesitation and nervousness regarding that, but I really wasn't scared. As soon as I got to Fort Hood, they said to be prepared to deploy. My unit had just deployed, but they kept me in rear detachment duty. I stayed in that role and pretty much did my job to help my unit that was deployed. When I wasn't in the field setting up antennas, I was on a computer helping soldiers with any issues they were having with the Internet."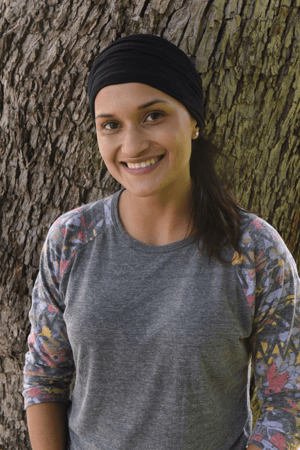 When it was time to transition, Melissa attended the mandatory transitioning briefings offered by the Army and learned about the VIP program. She knew she wanted a field where there would be numerous options for advancement. Even though she was a very petite woman, she felt she would be able to hold her own when it came to challenging, physical work. "I like to be involved in things where I can really stand out," she said. "And sure enough, I was the only female in my VIP class of 14." Similar to most of her male counterparts, she had never welded before. "I loved it right away," she said. "At first, I was a little scared about getting burned, but when I realized the jacket and gloves really work to protect you. I was all in. I took pictures of my welds from the very beginning, and it was amazing how they improved. My instructors were so supportive and gave me a lot of confidence by telling me that I was going to make it, and that some of the best welders were women."
Melissa and her husband transitioned out of the Army at the same time. They have a two-year-old daughter. When Melissa was getting close to graduation from the VIP program, she was tasked with selecting a local union in which to continue her apprenticeship program. They opted to remain in Texas. Regarding that decision, Melissa said, "We own a home here, and what we're paying in our mortgage here, we could never duplicate anywhere else, so Texas was where we wanted to stay." Melissa's husband started a job in corrections at a prison close to home, which he really loves. Plumbers and Pipefitters Local 286 in Austin became Melissa's number-one choice for placement. The excellent pay scale, Austin's booming economy, and its proximity to Killeen, where they owned a home, were factors that secured the deal. She also really liked the fact that it was a "combination" local, meaning it was a plumbers and pipefitters local union. Through the local's apprenticeship program, Melissa will receive her Master Plumbing License and Medical Gas Certification, as well as other certifications and skillsets that are needed to become a plumbing and pipe- fitting journeyperson. The local's goal is to make its members incredibly employable through its training and certification programs.
Melissa has been on the job since the end of March. She graduated from the VIP program in February of 2018 and then took a vacation before launching her new career. She is working for Brandt Mechanical Services in Austin and has been doing plumbing work at St. David's Medical Center in North Austin. When asked how it was going, she was candid about her first experience working with a journeyman. "I definitely felt prepared when I left the program," Melissa said. "We have so many friends from the Army who, since they've gotten out, are really struggling. That surprised us, because there were options at the time of our transition. Through the VIP program, instead of going and reporting to the Army, I got paid to weld all day. How could that be a bad situation? We would tell our friends, 'Go and try something new!' Too many of them said no and just went back to school with their GI Bills, but really had no direction. I didn't want to go to school to begin with, so why would I want to go now, and then what do you do?" She added, "Just because you have a degree, doesn't mean you'll get a job."
"At first, I felt I just wanted to weld like I had been doing in the program," she said. "I didn't know anything about plumbing. I was completely out of my comfort zone. My first journeyman just had me stand at the bottom of the ladder and hand him tools all day. I really wanted to learn, so I spoke to my foreman and told him that I had been in the Army for six years and that I knew I was small, but I could handle the work, and if I needed help I would ask! He put me with another journeyman who has just been awesome. I'm learning so much. I'm constantly on a ladder hanging up pipe and hangars. My days fly by. I can carry a 10-foot, cast-iron pipe without a problem. A lot of guys on the job still try to help me. I reassure them that I'll ask when I need help."
Because of her previous sentiments about school, Melissa laughed when asked how she liked the "school" aspect of the apprenticeship program.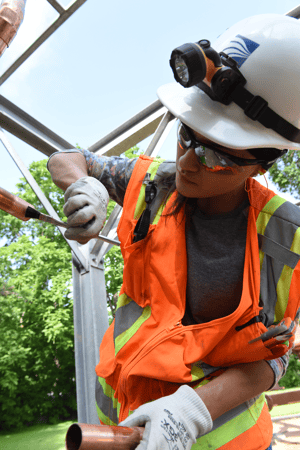 Interestingly, she loves it. "School just ended for this past semester. We had math on Tuesdays and rigging on Wednesdays," she said. "We will start back up in September with welding, so I'm really excited about that. I can apply what I learn in the classroom to the field. That's the difference, I think." Melissa also stated she is really enjoying the plumbing aspect of her job. "I caught on quick, and I like to think I will be a jack-of-all-trades, so to speak. I like being the person who has the answer to multiple questions. I hope I can get some welding certifications. Right now, it's hard to come in on a Saturday and practice because Saturdays are the only day I have to spend time with my family. They did say in class that if we have some really good pieces, they'll send them off to be tested for a certification."
Melissa said her husband has been very supportive of her newly found career. She feels comfortable working in a male-dominated industry. "At first, some of the guys felt they needed to act a certain way around me," she said, "but now, everyone jokes with me as if I am one of the guys, and that is what I want. I don't get singled out. Everyone is great." When she thinks about her future, Melissa stated that she would like to weld more. "It's really been good so far," she stated. "Everyone I've talked to says they are going to be working for me some day. At first, I laughed, but now I think about those possibilities and opportunities. I would love to become a superintendent or the top safety person on a job someday. I can only go up from here. We could end up owning our own contracting company. I've talked to my husband about that. I've said, 'Can you imagine?'" Yes, Melissa, we can.
This United Association Veterans In Piping Success Story was originally printed in the CareerOps: Career Opportunities in Piping for Transitioning Veterans Spring/Summer 2018 edition.