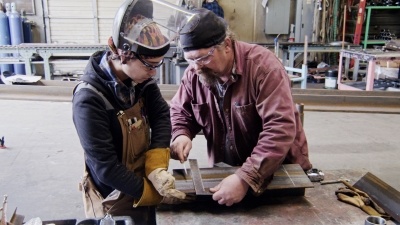 Samantha "Sam" Metcalf was a Joint Base Lewis-McChord (JBLM) military police officer for five years, and when the time came to transition out of the military, her main goal was to be able to find a viable career that would offer her the opportunity to stay in the Seattle, WA, area.
Originally, Sam felt that she would be interested in pursuing a career in some type of first responder capacity. She soon realized that, with the cost of living in the Seattle, WA, area so high, she would have to take on a second job to make ends meet. She said, "I didn't want to be behind a desk or in a cubicle.I knew I would have to be doing something with my hands,and that I would have to be interacting with others.I knew I would need a job that was physically demanding to be happy. I also needed a job that would pay well."
On a visit to the Stone Education Center at JBLM, Metcalf met Dave Gibson, who was the HVACR (heating, ventilation, air conditioning, and refrigeration) United Association (UA) Veterans in Piping®(VIP®) program's lead instructor. She said, "he gave me a very brief orientation about the program,and he even talked to us about the other VIP programs that were offered through the UA. He spoke about quite a few options. He just really wanted us to look into the trades." She continued, "When learning about the programs, I liked the description of the HVACR program. I wanted something a little more intricate, something that would require some brain power, so I went with the HVACR VIP program. I interviewed and was accepted."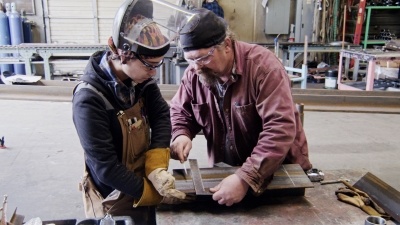 Metcalf described Dave as a good teacher. He would take them through the book content but also incorporate examples from the field. She said, "He would walk us through a process first, and then we would walk ourselves through that same process. If we ended up making a mistake, he would let us make that mistake, because you always learned from those mistakes. If anyone goes through that classand fails it, or doesn't do well, it's their own fault, because Dave gives you all the material you need to learn and understand what you're doing, and he is really a genuine and down-to-earth guy. He made it clear that, if we didn't understand a concept he was happy to walk us through it again. He viewed us all as his future."
When it came time to be assigned to a UA local union to continue on with the apprenticeship program, Sam was disappointed to hear that the HVACR service technician program in Seattle at Plumbers and Pipefitters Local 32 had already begun. She was, however, offered a spot in the pipefitter's apprenticeship class, and she seized the opportunity because staying in Seattle was her top priority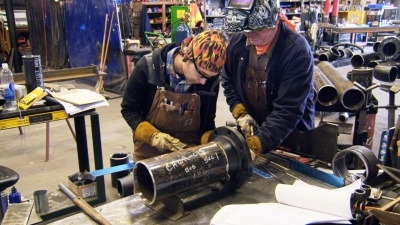 Today, Sam is a third-year pipefitter apprentice, and she absolutely loves her job! She said, "In the end, I think this is the better career choice for me. I have found that I really relish the time in the field with other craftspeople.I love working side-by-side with people from all of the construction trades to accomplish a task."
When asked what advice she would give another woman transitioning from the military who was looking at the UAVIP programs, Sam said, "I would tell her not to let the stigma of 'It's a man's world' hold her back from doing anything. If she is passionate, she can do anything. I would tell her that it will offer her the best opportunity to succeed. I would tell her she would be set, and that her brothers and sisters would take care of her. This is a brotherhood and a sisterhood, and if you need help, you just ask, and they will help you. I would tell her to do it. "
This United Association Veterans In Piping Success Story was originally printed in the CareerOps: Career Opportunities in Piping for Transitioning Veterans.