Spencer Radloff was a Staff Sergeant in the Army and was stationed at Fort Hood in Texas. He was in the Army for eight years. He heard about the Fort Hood VIP Welding program while stationed in Korea. "I was 100 percent sure it was time for me to transition out at the time," Spencer said, "but after doing the same thing for eight years, I was really anxious about what I would do once I got out. I looked at the timeline for the program and felt that it would work for me. I had some other options at the time, but I really wanted to pursue welding. I don't have any family members in a union, so that whole concept was new for me. I did know that there were a lot of similarities to the military,and I found it easy to transition out, and I finally felt free, if that makes sense."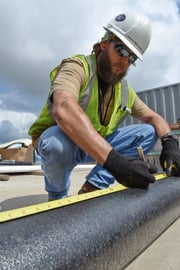 When it came time to make a decision as to where he wanted to be placed once he completed the program, Spencer said that he and his wife decided to stay in Texas. They have two children, ages five and eight,and they had already bought a house. Originally from Wisconsin, Spencer said he knew that he didn't really want to go back to Wisconsin. Spencer knew that Austin was booming, and that there was a lot of work there, so he pursued joining Plumbers and Pipefitters Local 286 in Austin.
Today, as a second-year apprentice, Spencer is working and attending apprenticeship classes. He said, "this period in class, I've had welding and plumbing,and I've learned a lot. At the completion of his apprenticeship, Spencer will turn out as a pipefitter/welder,and he will also work toward obtaining his Master Plumbing License, which is a requirement in Texas, and he will pursue other certifications that will make him the most employable.
Working for Young & Pratt Mechanical Contractors at the Austin-Bergstrom International Airport has been a great job, he said. He had been working a lot alongside his foreman, working on a lot of the warranty issues at the terminal. He said, "When I first came out to this airport, it was hard for me to understand how we were going to do some of the work, but as time goes on,and you learn more and more, you start to be able to figure these things out."
Spencer said he loved the VIP program and felt that the teachers were great and that it presented a great opportunity and opened up so many different paths. He stated that he welded all day long and ended up graduating from the program with his UA-21 welding certification.
This United Association Veterans In Piping Success Story was originally printed in the CareerOps: Career Opportunities in Piping for Transitioning Veterans.