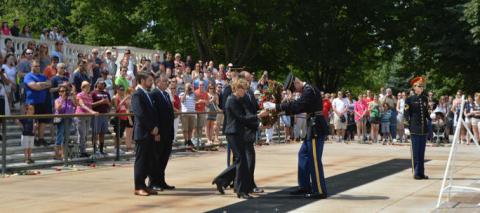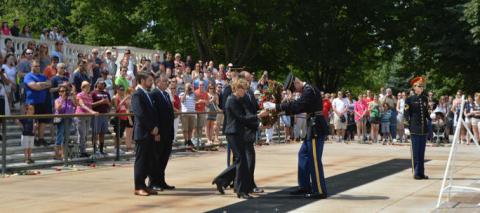 At the Tomb of the Unknowns at Arlington National Cemetery yesterday, union veterans and members honored the sacrifices of those interred there and of all military service members in a Memorial Day wreath-laying ceremony.
Taking part in the wreath-laying were Pam Donato (National Association of Letter Carriers), Eric Packard (Plumbers and Pipe Fitters), Dan Duncan (AFL-CIO Maritime Trades Department) and Will Fischer, executive director of the Union Veterans Council.
The wreath-laying ceremony was done in partnership with No Greater Love (NGL), a nonprofit, patriotic, humanitarian organization that honors our fallen, their families, our troops and our veterans. Throughout the year, NGL has remembrance wreath-laying ceremonies at the Tomb of the Unknowns for those who died in all our wars, conflicts and incidents since 1776.
Article written by Will Fischer.