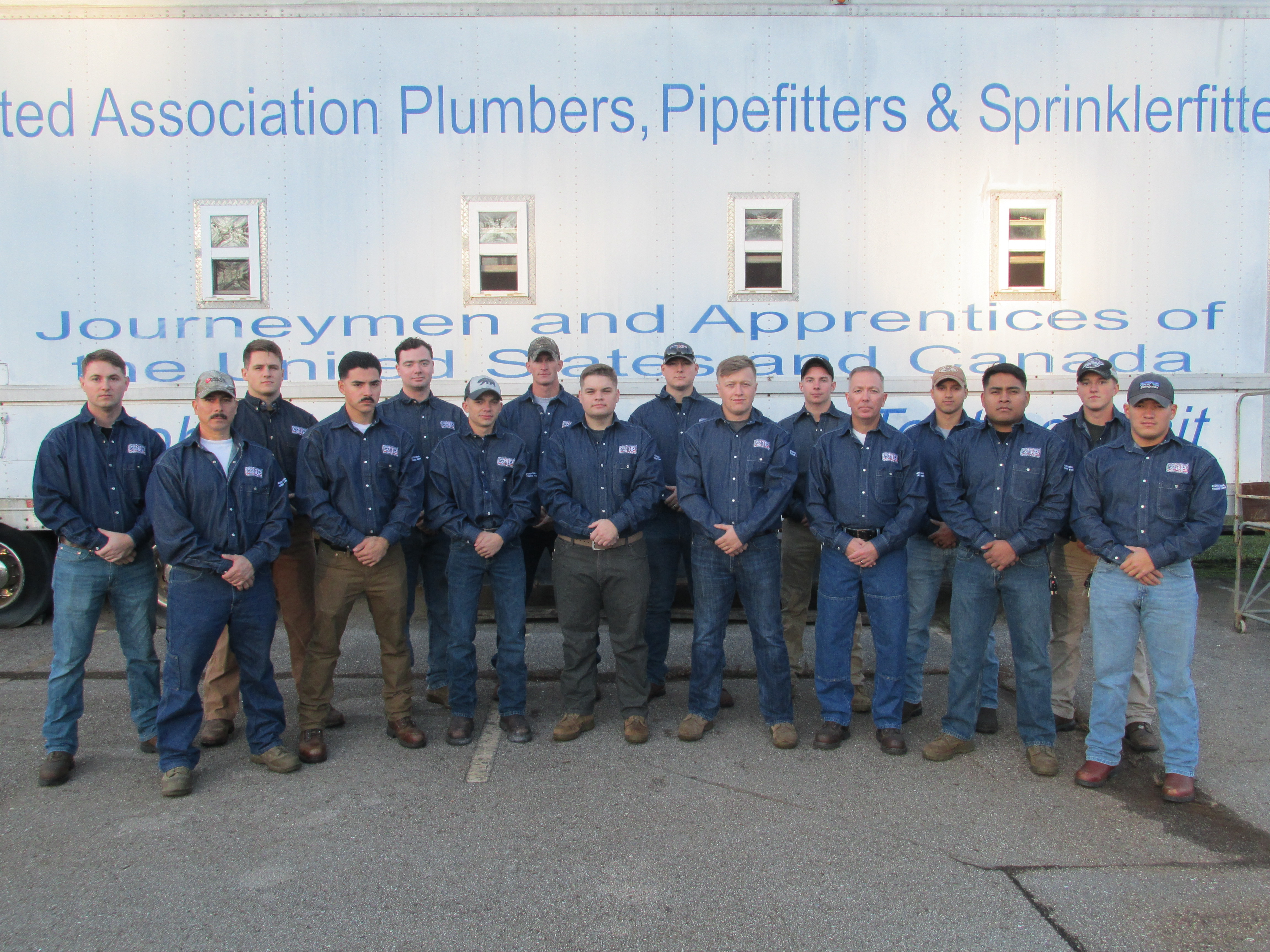 The United Association (UA) Veterans in Piping (VIP) Program celebrated the recent graduation of 16 active-duty transitioning military service members with an open house event at Camp Lejeune.
Military leadership and family members attended the open house, held on March 14, as members of Camp Lejeune Welding Class 12 showed off their newly acquired skills during the free 18-week piping industry career-training program. Once UA VIP graduates successfully transition out of the armed forces, they will begin new careers in the piping industry, with direct entry and guaranteed employment into the UA's five-year apprenticeship program in one of more than 300 locations across the country.
"The UA VIP program is an excellent fit for active-duty transitioning military personnel," said Staff Sergeant Jerome Griego, a Marine in the 2nd Assault Amphibian Battalion and member of Welding Class 12. "After years of training to keep our nation free, we now have an amazing opportunity to train and learn a skill, an art to continue to build a great nation."
Class participants receive both classroom instruction and hands-on training, as they learn the basics of welding and then work to develop and improve upon their newly found skillset. Additionally, they receive industry-leading OSHA safety training.
"I love it when you can see that light go on and they just get it," said Camp Lejeune Welding Instructor Billy Platt. "Focusing on the fundamentals really pays off."
One of the country's top career-training programs for transitioning active-duty military service members, the UA VIP Program helps alleviate the stress faced by those in the armed forces, who oftentimes have trouble finding employment when they return to civilian life. By guaranteeing UA VIP graduates employment upon completion of this free skills training program, members can focus on taking care of themselves and their family instead of worrying about finding a job.
"During my time in the program, I have learned not only a lot about welding, but many of the same traits learned during my military career – traits like leadership, selflessness, integrity, initiative and many others," said Griego. "It feels like a smooth transition from one career to another."
Upon their successful transition out of the armed forces, UA VIP graduates will begin their new career and also enter a five-year UA apprenticeship, where they will receive additional hands-on training and classroom education, as they work toward their goal of becoming a UA journeyman.
As UA apprentices gain new skills, improve existing skills and gain experience, they also receive corresponding hourly wage increases from their employer. This is in addition to the excellent health insurance and great retirement benefits, which includes both a 401k plan and a pension, they receive when they begin their new job.
To learn more about the UA VIP Program at Camp Lejeune, click here.