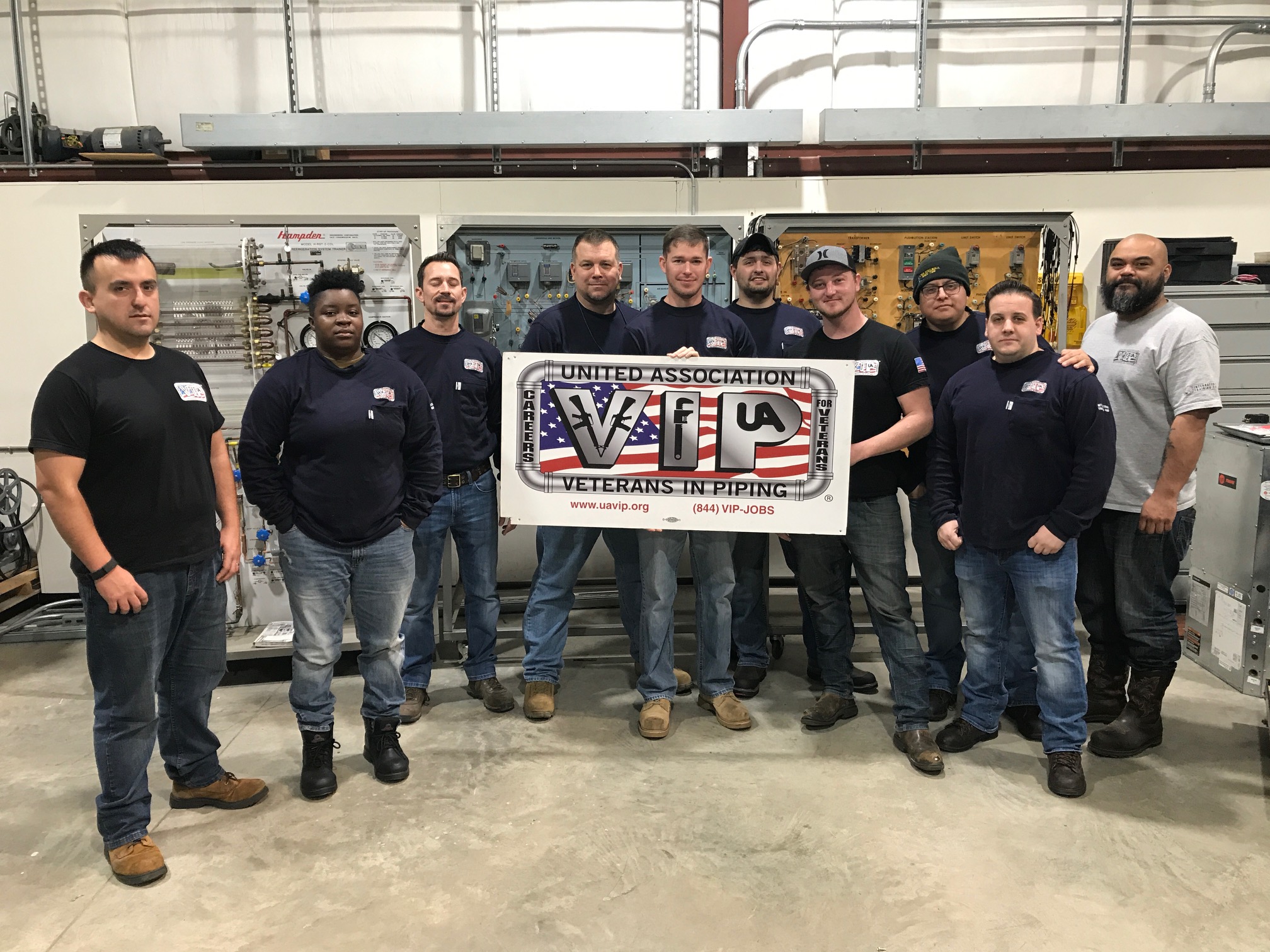 The lives of 10 transitioning active-duty military service members are set to change, as the recent graduates from the United Association (UA) Veterans in Piping (VIP) Program Naval Station Norfolk HVAC-R Class 8 prepare for new civilian careers.
On Feb. 21, Family members and military leadership attended a small ceremony, as students in Naval Station Norfolk HVAC-R Class 8 officially received their graduation certificates, marking the official completion of the free 18-week training program. Once UA VIP graduates transition out of the armed forces, they will begin a new life in the civilian world thanks to guaranteed employment with a UA signatory contractor and direct entry into the UA's five-year apprenticeship program in an agreed upon geographical location nationwide.
"This program is an amazing opportunity for active-duty service members transitioning out of the military, no matter how many years they have been in," said Navy Petty Officer 2nd Class Zeth McCloud, a HVAC-R Class 8 graduate. "This program is giving me a promising job in a new career field, where I look forward to learning and growing as much as I can."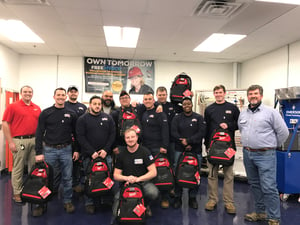 For McCloud, the UA VIP Program provided him the ability to transition out of military without the stress of looking for a good-paying job.
"Just knowing that I have a job as soon as I separate out, lifts the weight off my shoulders and stops the questions to myself of how I am going to continue to pay my bills," said McCloud. "This program is one of a kind and an absolute blessing to be a part of."
Thanks to the UA VIP Program, graduates are guaranteed employment, along with excellent health insurance and great retirement benefits including a pension and 401k plan. UA apprentices earn while they learn, which means they work side-by-side with UA journeymen learning the trade and earning good, hourly wages. Additionally, apprentices receive mandatory classroom education to prepare them for their new career.
As UA apprentices learn new skills, improve existing skills and gain experience, they also receive corresponding hourly wage increases from their employer. Upon completion of the 5-year apprenticeship, they become UA journeymen.
Now, these VIP graduates are set to begin a new stage in their lives, immediately upon transition from the military.
"The UA is honored by having such a great class enter its ranks," said UA VIP HVAC-R Instructor Marvin Donnell. "It always amazes me how fast 18 weeks fly by. I guess it's because I enjoy the students so much. Graduation is always a bittersweet time knowing I will never see some of these great people ever again. Knowing I have the honor of meeting and helping the next class overcome challenges is priceless."
To learn more about the UA VIP Program, including participating bases, visit www.uavip.org.