Throughout many areas of the U.S., there is an abundance of work opportunities for people who are looking to begin a career in the pipe trades due to an increasing number of retiring tradesmen and tradeswomen.

In his second period as an apprentice with United Association (UA) Local 420, former Navy Petty Officer Third Class Thomas Niggel is happy with the way the Veterans in Piping Program (UA VIP) has helped him find a quality career as an HVAC-R service technician.

"The VIP Program gave me quality hands on training and a career with an abundance of work," Niggel said.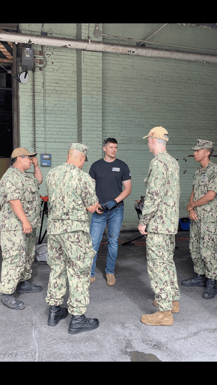 The UA VIP Program is a free, 18-week Skillbridge program designed to help active-duty transitioning military service members prepare for a career in the pipe trades upon transition out of the military. In the UA VIP Program, service members learn the skills necessary for an entry-level position in the pipe trades.

Unfortunately, a number of military service members who transition out of the armed forces struggle to adapt to civilian life and find a civilian career.

Niggel is happy he found out about the VIP Program because it helped him make a smooth transition into civilian life, where he was guaranteed a job.

"The transition was very smooth. I started school a few weeks after terminal and the next week I was working," Niggel said. "It is the best decision you can possibly make."

Upon completion of the VIP Program and a successful transition out of the armed forces, VIP graduates are guaranteed a job with a UA signatory contractor in an agreed upon location. In this job, graduates will earn livable wages and quality fringe benefits.

In addition to guaranteed job placement with a UA signatory contractor, graduates also gain direct entry into the five-year UA registered apprenticeship program. Here, VIP graduates will continue to build on their skill set through classroom instruction and on-the-job training from experienced journeymen.

As apprentices, UA VIP graduates will earn scheduled pay raises that correspond with their progress in the program. Also, UA members receive a family-supporting wage, family health insurance and retirement benefits such as a 401k and pension.

To learn more about the UA VIP Program at Naval Station Norfolk, click here.