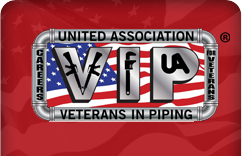 This past May, the United Association (UA) successfully graduated its first active-duty Army Veterans In Piping (VIP) welding class from its Joint Base Lewis-McChord (JBLM) training site. As the welding graduates moved on to their new apprenticeships and careers, another class of UA VIPs—the first class of UA HVACR service technician candidates—started their 18-week program. The first class of JBLM HVACR VIPs will graduate at the end of August.
UA Local 32 member Brother McLaurin, who teaches the UA's VIP HVACR JBLM class, is extremely enthusiastic about his new position and the assistance he can offer in helping the U.S. military: "I am grateful every day that I can help transition a soldier."
"Our program means real security for these guys when they get out. They have been taken care of by the military, and once they're out, they have to fend for themselves. We offer a smooth transition and offer them a leg-up once they get out of the military. I'm looking forward to offering this assistance to our nation's heroes for years to come."
Brother McLaurin stated that the leadership at JBLM has been nothing but incredibly gracious since the inception of this program. "ACES Program Manager Amy Moorash bends over backwards to assist us whenever possible," he said. "If there are any problems—she takes care of it. Amy just makes things happen."
Below are a few testimonials to the success of the UA's VIP program. Please take time to read them and learn more about the program from those who have experienced the program's opportunities firsthand.
"This program is an 18-week intensive, accelerated version of the first year of our HVACR program, and enables veterans, upon graduation, to move into a second-year apprenticeship position. There is a lot of hands-on learning and theory in all of the facets for the service technician position. There are so many things to learn, but after they go through with this intensive program, they are fully prepared for the second-year of their apprenticeship. These participants are disciplined, and they are ready for a career.

Placement is very competitive. There were only 10 slots available for each class. We want them to succeed, so they have to have pretty high math and science scores on their Armed Services Vocational Aptitude Battery (ASVAB). We receive feedback from many individuals in this process. JBLM Army Continuing Education System (ACES) Program Manager Amy Moorash, Mechanical Service Contractors of America (MSCA) contractor representative Kip Bagley, UA Special Representative Donnie Braun, and UA Training Specialist Mike Hazard were all involved in the selection process. These candidates have really exemplified that they are going to be great HVACR service technicians when they get out of the program."

— William McLaurin, UA Local 32 member and HVACR VIP instructor for the UA

"Right out of high school I became a cable contractor. But with the down economy, that industry really suffered. So I joined the Army. At the time, I needed a way to become financially stable and to acquire some skills. I heard about the VIP Program through the Army's transition services. I have a cousin back home who is a UA member, and I always wanted to belong to the union. This program has offered me a great opportunity. I was a mechanic in the Army, which does transfer to the civilian world, but I don't have any certifications that would translate. If I had gone that route, I would have had to start out with minimal pay in a helper position, and I definitely would not have had health insurance or benefits. Receiving training while I'm still on active duty has been incredible. The benefits and rate of pay are comparable to what I am getting in the Army.

My command has been really cooperative about freeing me up from my other responsibilities to attend this program. The program is designed to accommodate us by giving us Fridays off to do the things we need to do to smoothly transition out. I've been married two years now, and I have a six-month-old son. My wife is also a veteran. This program and career will give me the opportunity to support and grow my family. It will give us the quality of life we deserve.

I'm headed to Kansas City, Missouri, to Local 533. The Business Manager is Scott Grandon, and I am very grateful. I feel very fortunate to be assigned to work for U.S. Engineering under the supervision of Associate Vice President Rob Marriott."

— Cody Coffin, Specialist, U.S. Army, served three-and-a-half years at JBLM
"I've been in the military for 23 years. I originally joined the National Guard, but didn't really like it. I then joined the Marine Corps and served 13 years. I couldn't find anything when I got out, and at that time I was still involved in the National Guard, so I came back into the Army active duty. That put me at 23 years. I've been infantry for 23 years.

I first heard about the VIP program through a memo, and I was actually pushing it to my soldiers. I then decided to apply. I really like the program, and I tell my friends you have to do this program, the welding or HVACR. My experience out of the military confirms it is very hard to find a job. This program gives you job placement—guaranteed! No other program, employment agency, or college placement office is doing that. The training has been outstanding. I was a little skeptical at first because all of my adult life I was told negative things about a union. My dad was a non-union construction worker, and he pretty much grilled me to believe the negative stereotypes of the union worker. I gave it a chance anyway, and it is so much better than I thought it would be.

I am going to Local 725 in Miami, FL when I graduate. UA Special Representative Donnie Braun, who is in charge of HVACR Organizing, has been doing the placement for us. He actually asked us where we wanted to go. I said anywhere it doesn't snow, rain, or come at you sideways. He said, 'Where would that be?' And I said, 'Florida,' and he said, 'I have the perfect place for you.' Donnie has kept his word and so has the UA. Local 725 Business Manager Kenny Scott and Donnie have secured a position for me with Hill York under the supervision of Chief Operating Officer Mark Kerney. I'm very anxious to start.

I have a totally different opinion about unions now. I had no idea about the certifications. My future is going to be great. I plan on staying at Local 725 until they carry me out on a stretcher. With my military retirement and my new career, I will be financially secure."

— Carlos Norfleef, Squad Leader with 4th Battalion, 23rd Infantry

"I've been in the Army for 20 years, which was my intent. When I was looking for a post-retirement career, I saw this job opportunity on the board. I really like the sense of accomplishment I get when I can put something together or fix something that isn't working. I saw this as an incredible opportunity to get the training I needed without putting my family's finances at risk, since I am the sole money earner. The outstanding thing about the VIP program is that I am still on active duty. I am on my transitional leave. I don't have to pay for the training, it's accelerated, and I get job placement. So, I'm not paying out any money to get trained and then look for a job. I'm actually training and working at the same time. It's incredible.

Day one—when some of the terms were spoken—a lot of us were actually a little nervous. The whole theory of refrigeration I hadn't thought of. I knew how to turn up my thermostat, and I knew to make sure there was coolant, but that was it. As we go through class, our instructor has been excellent in explaining the systems and how the training constantly refers back to refrigeration theory principles.

My wife and I were initially looking to retire in Washington, but now we are looking to move back to the Midwest where our family is from. The UA is working very hard to help us get back to the Midwest. One of the factors for me, being retired military, is to be relatively close to a military treatment facility. So, finding an installation that is close to a city that will work for me, I must say, the UA is working effortlessly to find the perfect fit. I feel very positive about my career with the UA. The membership, the medical benefits and retirement, plus the competitiveness of the wages for my family—with all of that, my kids will have a decent chance at going to college."

— Nathan Tiemeier, Sergeant First Class