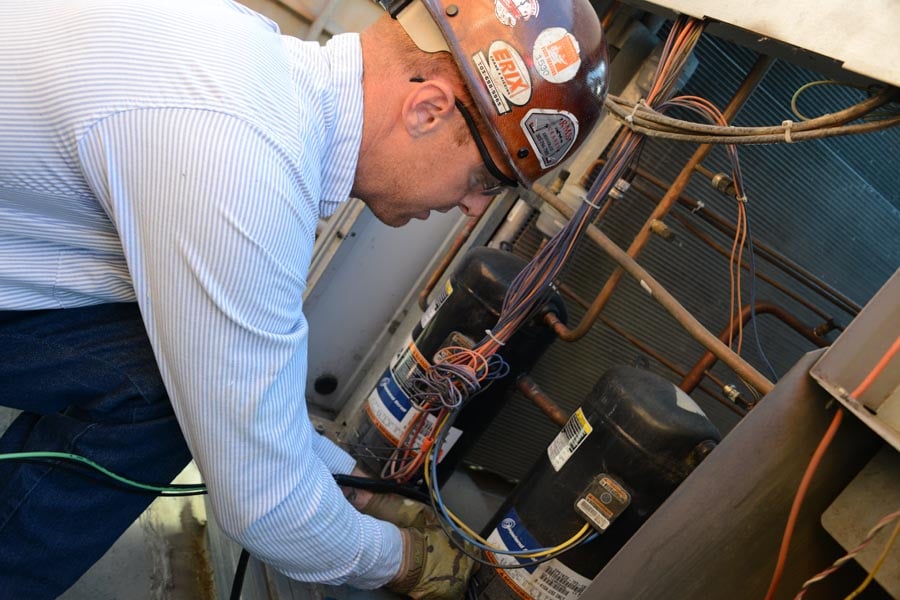 Many transitioning active-duty service members wonder how they'll support their families after the military.
For the United Association Veterans in Piping (UA VIP) students in Naval Station Norfolk HVACR Class 18, the answer is clear: A civilian career in the heating and cooling service industry.
The UA VIP program is a Career Skills Program (CSP) that prepares transitioning active-duty service members for a career in the pipe trades after they get out of the military. The program provides service members with a guaranteed civilian job and a great career.
Over the course of 18-weeks, the Class 18 students will train alongside a certified journeyman instructor through a combination of hands-on training and classroom instruction. They will learn how to install, repair and maintain heating, ventilation, air conditioning and refrigeration systems and gain foundational skills in preparation for a good paying career after leaving the military.
The students will also earn certifications in electrical, recovery and HVAC refrigeration.
The beginning of a great career in the HVACR service industry
It's all preparation for a UA registered apprenticeship and the beginning of a great career in the heating and cooling industry.
Upon completing the UA VIP program and transitioning out of the military, the students will begin their registered apprenticeship training at an agreed-upon location. They will earn good union wages while they learn and quickly qualify for quality healthcare for their family. They will also start earning a pension and a 401K plan for their retirement.
As they progress through their apprenticeship and expand their skillset, the students will earn higher wages.
Once they complete their apprenticeship training, they will become journeymen with numerous opportunities for advancement. Some will go on to become foremen, superintendents or own their own business. Others will eventually become certified journeyman instructors, perhaps even in the UA VIP program
The UA VIP program offers training in welding, HVACR and fire sprinkler fitting at select military bases throughout the country. Transitioning active-duty service members are invited to apply for the program during the last six months of their enlistment period. Training takes place on base and is considered part of a service member's military commitment.