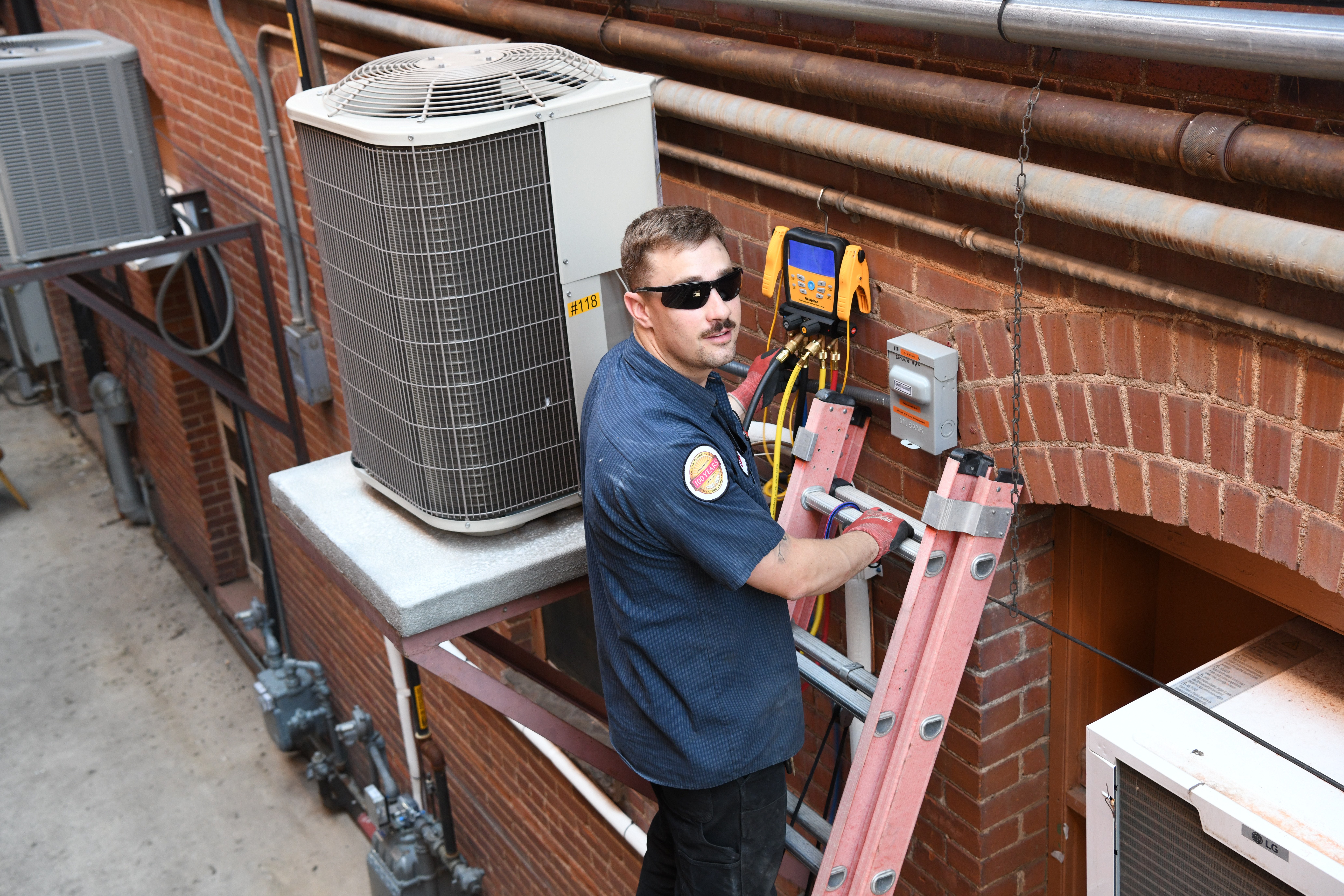 Caleb Pringle joined the Army right out of high school in 2010. His first duty station was El Paso, TX, as an infantryman. He had one tour in Afghanistan, where he worked as a mine sweeper, looking for IEDs while his platoon followed him. After Afghanistan, he spent several years at Fort Carson in Colorado Springs, CO. He was promoted to Sergeant, working in brigade operations. Following that assignment, while deployed in Kuwait, he was a Bradley Commander in charge of two Bradleys—two drivers and two gunners. He then traveled to Germany and Poland for a short time while preparing to change duty stations from Fort Carson to Joint Base Lewis-McChord (JBLM) in Washington, where he became a Squad Leader and a Weapons Squad Leader. He was in charge of the heavy guns, as he noted. During the last few months that Pringle was in Washington, they put him in the Platoon Sergeant position, where he was in charge of 40 soldiers in an infantry platoon. As he was preparing to transition, he went to the career counseling center to explore his options.
Pringle said initially, he was interested in becoming a police officer, perhaps on a SWAT team, because it directly correlated with what he did in the Army. He said, "But then I realized I didn't want to do the same thing as I did in the Army. I wanted slightly less stress, I guess. I didn't want other people's lives relying on me anymore. I just wanted to do my job, make money, and go home to my family. I grew up with a dad who was a painter, and he built custom homes from the ground up. He started as a painter and then basically did everything from the foundation to the framing to the hardware and everything. Because of watching him, I was interested in a trade."
At the career center, he researched the VIP HVACR (heating, ventilation, air conditioning, and refrigeration) service technician program, interviewed, and was accepted. He spoke fondly of his VIP HVACR instructor Dave Gibson, stating that, "He was fantastic." As Pringle got close to graduation, he had the option to decide where he wanted to continue his apprenticeship.
He explained that he would like to head back to Colorado, somewhere close to his hometown of Glenwood Springs. Pringle was offered an apprenticeship at Plumbers and Pipefitters Local 58 in Colorado Springs, CO, and started in 2019. He is nearly halfway through his training now, and he's been working for Olson Heating and Cooling in Colorado Springs.
He said, "It's a little bit different working for Olson here because we do mostly residential work, and most union HVACR companies are predominantly commercial. Originally, it was a bit of an adjustment because I learned a lot about refrigeration in the VIP program, and I wasn't using it. I was doing a lot of retrofit work, changing out furnaces, that sort of thing. I started in the winter, and it was heavy furnace work at the time. Still, the program gave me a significant advantage once summer rolled around, even over some of the older, more experienced apprentices. I had an understanding of refrigeration systems and left the program with certifications that have helped me tremendously. But honestly, the greatest gift was when I signed out of the Army; even well before I signed out, I knew where I was going. I knew I had a job. I knew exactly where I had to go and when I was starting. That takes a huge amount of stress off of your shoulders. The transition from Army life to civilian life can be very hard."
Pringle met his wife in the Army, and when he changed duty stations to JBLM, she did too. They were married in Washington State. Both Pringle and his wife continue their service through the National Guard. Pringle is in the Reserves. He said, "I'm not doing the same thing I was doing during active. I'm a career counselor now, so it's less stressful in many ways. I know I won't have to deploy, but it's stressful because I still have soldiers I help and take care of, and a lot of times those concerns leak outside of that one weekend-a-month commitment.
The availability of my time is also sometimes an issue. I have to go to school for the Army for three weeks next month, and that takes away from apprenticeship school and my job, but my boss and training coordinator have been great and fully understand the commitment."
Pringle is happy about the decision he made to become an HVACR service technician. He said, "HVACR is so broad, you could work in this field for 20 years and not know everything. I will make this my career and take advantage of all the opportunities offered to me." Pringle added, "Kids who are in high school need to stop thinking that college is the only answer. A college degree can waste a lot of time and money when you don't know what you want to do. I look at some of these guys my age who went straight into an apprenticeship and already have 11 years in the trade. As apprentices, we're getting paid to learn the things that will support our families.
We're getting paid to learn skills instead of paying someone to learn ideas, because ideas don't get you jobs—skills get you jobs."
This story originally appeared in the Fall/Winter edition of the United Association Veterans In Piping (VIP) Program's CareerOps: Career Opportunities in Piping for Transitioning Veterans.