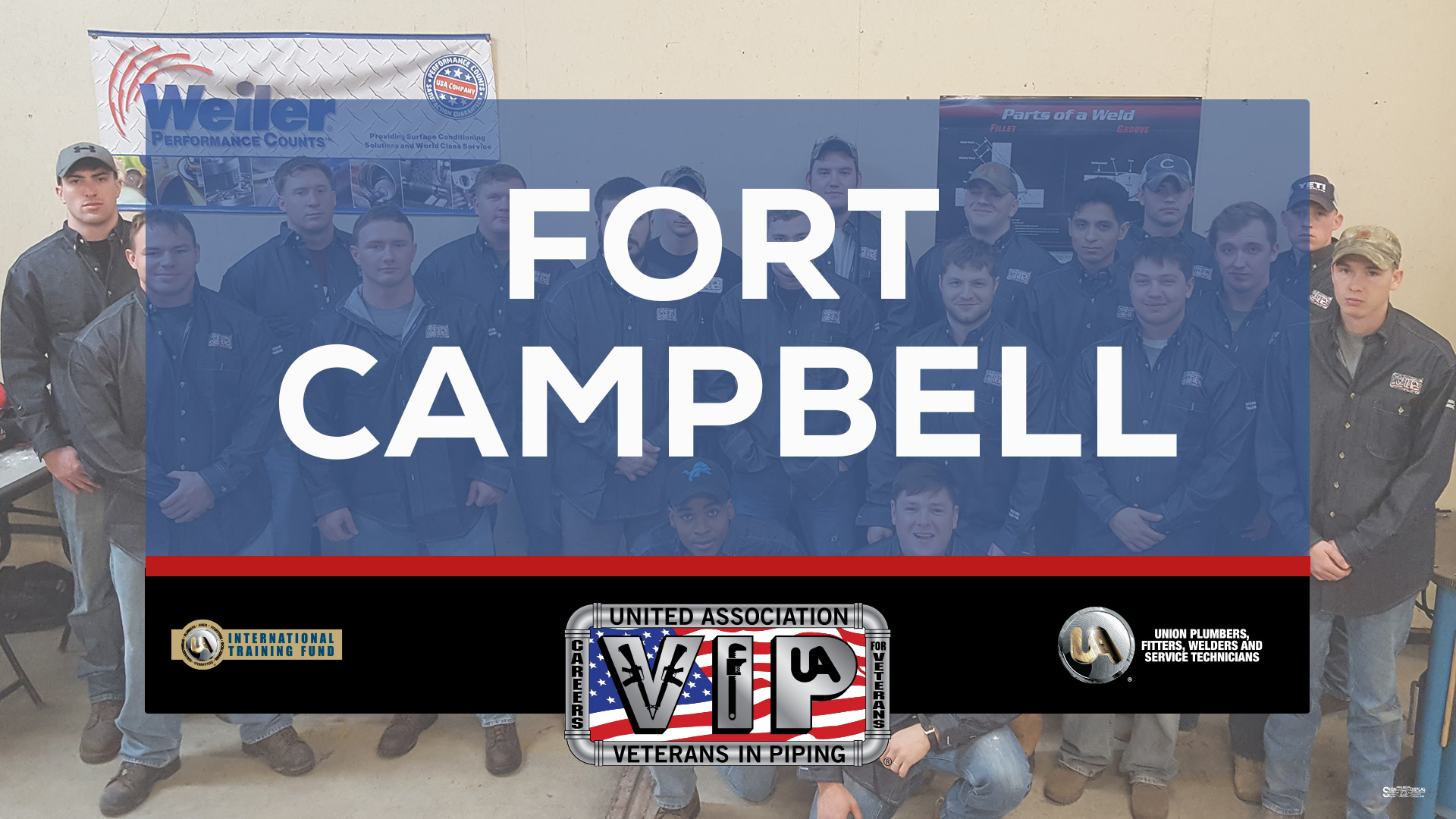 Members of the United Association Veterans in Piping (UA VIP) Program Fort Campbell Fire Suppression Class 11 graduated on July 20.
In the coming weeks and months, these graduates will begin new and fulfilling civilian careers as union Fire Suppression Fitters, after they transition out of the military.
As a DOD Skillbridge Program, UA VIP is focused on helping active-duty service find rewarding careers.
Once they transition out of the military, VIP graduates are guaranteed placement in a UA Department of Labor registered apprenticeship program at an agreed-upon location.
Over the course of 18 weeks, experienced journeyman instructors have guided their students through the expertise and precise skills of the sprinkler fitter industry.
The program also provides career counseling and mentorship to supply service members with the appropriate life tools to accomplish a successful career transition.
Students obtained industry-recognized certifications in steel pipe threading, basic rigging and signal person training, copper joining, CPVC certificates, and CPR/First Aid certificates.
Class 11 Graduates are ready to install and maintain high and low-pressure piping, equipment and devices to supply fire protection systems with water, foam, carbon dioxide and other materials in hospitals, commercial buildings, manufacturing plants and home and apartment buildings.
The start of a new civilian career


During their apprenticeship training, VIP graduates will earn good union wages while they learn and quickly qualify for quality health insurance for their families. They also start contributing to a pension and a 401K for their retirement. Their pay gradually increases as they progress through the apprenticeship program and expand their skill set.
The UA wants to ensure that no active-duty service member is ever faced with the hardships of unemployment after the sacrifices they have made for our country.
To ensure this unfortunate outcome is avoided, the UA guarantees an endless road of possibilities for career advancement. Once an apprentice tops out of the apprenticeship program and becomes a journeyman, they open up a wide variety of career pathways with the potential to do even more in the piping industry.
Transitioning active-duty service members are welcome to apply for the UA VIP program during their last six months of service.
The UA VIP program offers career training in welding, HVAC-R and fire suppression, where students learn the basics of installing, inspecting, repairing and maintaining fire sprinkler systems.
The programs serve all military branches and are currently administered at seven locations nationwide. The UA VIP program continues its efforts to establish additional programs for all service members to have this unique opportunity. Service members stationed at neighboring installations are highly encouraged to apply for the UA VIP program nearest them.