When Army Sgt. Justin McKnight considered a civilian career for life after the military, he weighed two different options: welding or truck driving.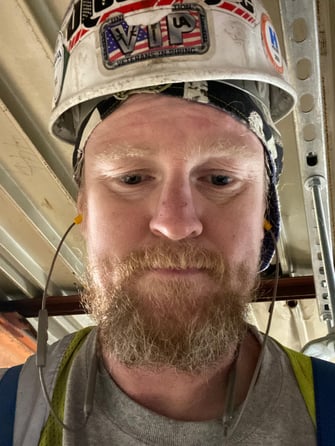 Ultimately, welding proved the most attractive. He liked to work with his hands. And thanks to the United Association Veterans in Piping (UA VIP) program, he had a direct path to a UA apprenticeship where he could learn everything he needed to know to begin a civilian welding career.
The UA VIP program is a Career Skills Program (CSP) for transitioning active-duty service members. It provides service members with a guaranteed job after the military through a UA registered apprenticeship program.
"The UA VIP program trained me to where I needed to be for welding," McKnight said. "It was a very good precursor to the apprenticeship."
McKnight underwent an 18-week training program through Fort Hood's Accelerated Welding Class 9 in 2015. He trained alongside an experienced journeyman instructor through a combination of classroom instruction and hands-on training. He learned basic welding skills and earned industry recognized certifications that accelerated his career once he began his UA registered apprenticeship.
The UA VIP program offers training in welding, HVACR and fire sprinkler fitting at select military bases across the country. Training takes place during a service member's enlistment period and is considered part of their military commitment. Transitioning active-duty service members are invited to apply to the UA VIP program during their last 18 months of service. Those interested are encouraged to begin the application process as soon as they can.
A new civilian career through the UA VIP program
After completing the UA VIP program and transitioning out of the military, McKnight began a UA registered apprenticeship program with Steamfitters UA Local 602 in Maryland.
"Local 602 has had me working ever since," he said.
While he trained in his apprenticeship, McKnight earned good union pay and quickly qualified for quality health insurance for his family. He earned annual pay raises as he expanded his skillset. He began earning a pension and a 401K for his retirement.
McKnight turned out as a journeyman in 2019. He currently works for Southland Industries. Over the course of his career, he has worked at data centers in Virginia, federal buildings in the Washington D.C. area and at Proctor and Gamble in West Virginia.
"The UA VIP program gave me the basics of what I needed to know," he said. "The rest you can learn on the job."
McKnight found the Brotherhood he experienced in the UA remarkably comparable to the bonds he enjoyed in the military.
"It was a very easy transition out of the military because the Brotherhoods are similar," he said.
McKnight would highly recommend the UA VIP program to any transitioning active-duty service member looking to start fresh in a great civilian career.
"You should definitely give it a try and see if you like it," he said. "You earn a fair day's pay for a fair day's work. I talk about the UA VIP program all the time because people ask me how I got into the trades. Thanks to UA VIP, my family and I are able to live a really good life."
Learn more about the life changing opportunities the UA VIP program has to offer.