The graduating members of Fort Campbell's Welding Class 18 are about to see another promise of the United Association Veterans in Piping (UA VIP) program fulfilled.
After they transition out of the military, they will join a UA registered apprenticeship, earn good union wages with health benefits and begin good paying careers in the pipe industry.
"The UA VIP program means more to me than I can put into words," Army Spc. Thomas Hubbard said. "It's a one of a kind opportunity to give people what I would consider a perfect transition from working in a military type environment to going and successfully working in a local union. The opportunities are endless with the UA."
The UA VIP program is a Career Skills Program (CSP) that provides transitioning active-duty service members a direct path to a career in the pipe trades. It guarantees graduates a good paying job after the military.
"I look forward to getting out of the military and beginning this awesome career," Army Chief Warrant Officer Edward Griffie said. "I am really excited to see what the start of my future looks like."
Over the course of 18 weeks, the Class 18 graduates trained alongside an experienced journeyman instructor through a combination of classroom instruction and hands-on training. They learned basic welding skills as well as earned industry recognized certifications that will put them ahead of their peers when they begin their UA registered apprenticeship after the military.
The students earned certifications in oxy fuel cutting, SMAW plate welding, SPAW and GTAW pipe welding and SMAW pipe spooling.
"The UA VIP program is an opportunity to succeed in a fulfilling career," Army Sgt. Jared Gales said. "I am very much looking forward to the next step I am taking into the pipe industry. The opportunity to join the UA is a dream come true for myself and my family."
The UA VIP program offers training in welding, HVACR and fire sprinkler fitting at select military bases across the county.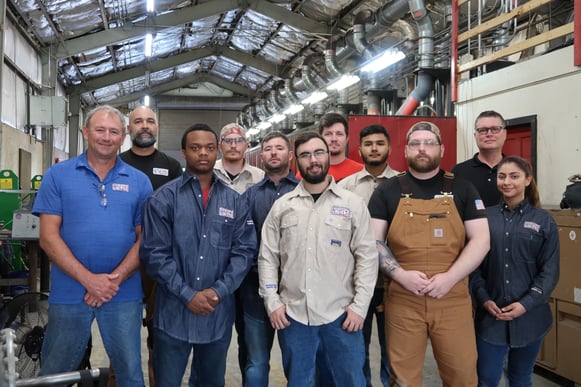 A direct path to a good paying career with the UA
Once the graduates finish their military commitments, they will begin a UA registered apprenticeship program at an agreed upon location. Some will join UA Locals in Savannah, Ga., Nashville, Tenn. and Pomona, Calif. Their families will quickly qualify for quality health care benefits, and they'll start earning a pension and a 401K for their retirement.
"My goal when I get to my Local and begin my apprenticeship is to learn everything I possibly can about pipe fitting and welding," Gales said. "I plan to take full advantage of every educational opportunity."
Once they complete their apprenticeship training, they will become journeymen with numerous opportunities for career advancement. Some will eventually become foremen or superintendents. Others will become journeyman instructors, and perhaps even teach in the UA VIP program.
"I'm going to work to perfect my craft and become a high-level, skilled journeyman so that I am able to mentor future UA apprentices," Army Sgt. Jesenia Rivera said.
The UA VIP graduates of Fort Campbell Welding Class 18 can look forward to a bright future with the start of a good paying career in an industry that continues to have a high demand for jobs.
"I look forward to forming a brotherhood like I did with the military and being able to support my family," Army Spc. Mark Koeller said. "I'm excited to begin a career in pipe welding and becoming a valuable employee wherever I go."