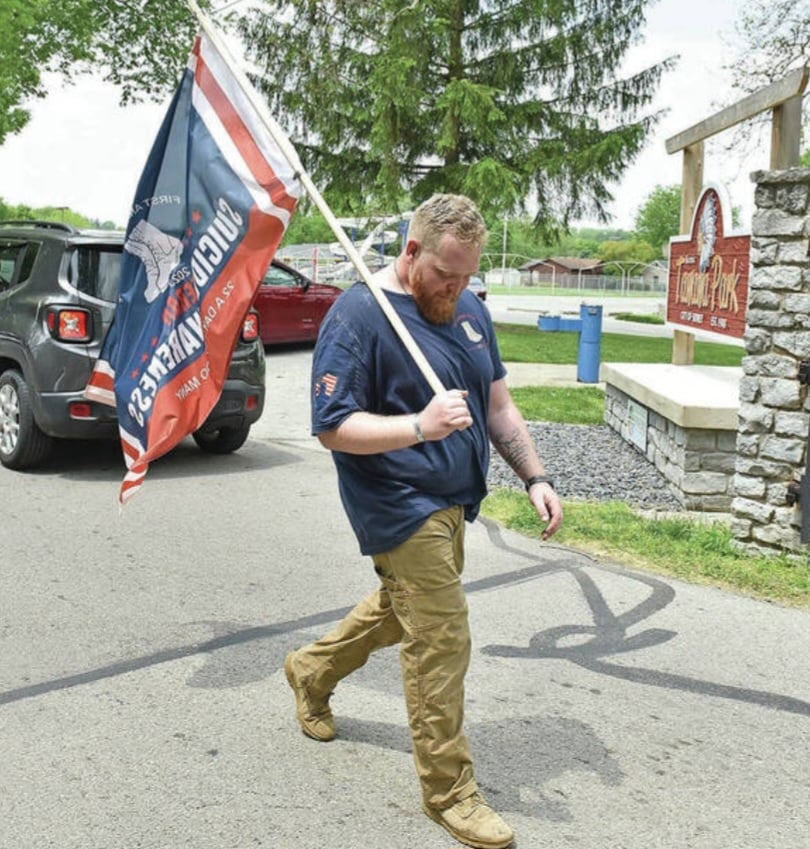 A United Association Veterans In Piping (UA VIP) graduate recently received media attention for walking 68 miles to raise awareness about military veteran suicide.
Jacob Blankenship is a graduate of UA VIP Camp Pendleton Welding Class 18 and a marine veteran.
On May 25, Blankenship and his family organized their first Ruck for Veteran Suicide Awareness. He walked roughly 68 miles from Findlay to Sidney, Ohio.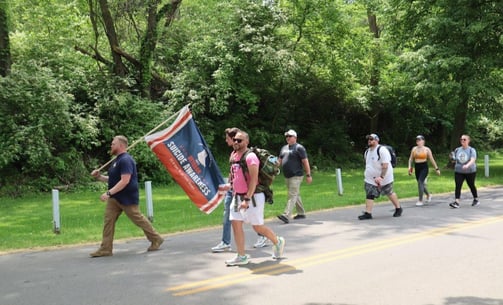 "I thought it would be cool to start the walk where my life is now, with the UA, and walk to where my military career started," said Blankenship.
With a 50-pound backpack (a ruck), Blankenship hiked along the Tawawa trails in Sidney, Ohio and concluded his journey at Tawawa Park on May 26.
"Tawawa Park is where I ran a lot to train for the Marines," he said. "It's miles long, and I ran that almost every day. It only seemed right to walk back to where my journey started."
Blankenship, a member of UA Local 776 in Lima, Ohio, joined the Local after he graduated from the UA VIP program at Camp Pendleton and transitioned out of the military.
The UA VIP program is a DOD Skillbridge program created to provide military veterans with financial stability and job security after their sacrifice to our country and transition back into civilian life.
"Growing up, I always heard about unions, but I thought you had to be a blood relative to get into one," Blankenship said. "Then, one of the VIP instructors told me they wanted my veteran work ethic and mentality in their union. He said I could transition into civilian life without a pause in pay. I was sold."
Blankenship served four years in the Marines including a deployment to Japan. While on deployment, he lost a close friend and military brother to suicide.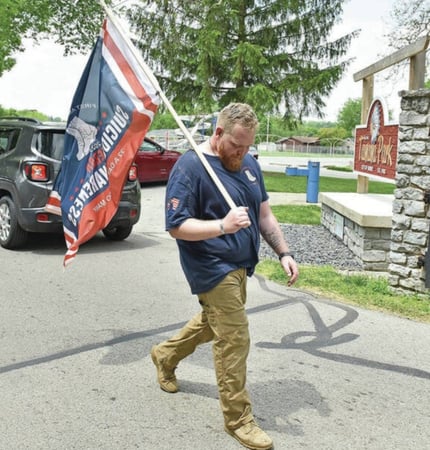 "When that happened, it really took a toll on me; I had to do something," Blankenship said. "I wanted to help community members understand how they can be that Local Brother to a veteran in their neighborhood."
In accordance with his goals, Blankenship created the fundraising walk to help bring awareness to veteran suicide and mental illness. He plans to make the walk an annual event.
"My military Brothers always tell me they are having a hard time adjusting to civilian life, and awareness like this might help people understand what we're going through day-to-day," he said.
The second annual Ruck for Veteran Suicide Awareness will be held on June 21, 2024 at 5 p.m. at the Hancock County Courthouse.
If you have any more questions about the event, contact Jacob Blankenship (jacob.blankenship1995@gmail.com).
UA VIP addresses veteran suicide
UA VIP applauds the efforts of Brother Blankenship to raise awareness about veteran suicide.
Every day, an average of 20 veterans tragically commit suicide, according to the U.S. Department of Veteran Affairs. Suicide is 1.5 times as common among veterans as it is for the civilian population.
To help combat this crisis, the UA VIP created a Member Assistance Program (MAP) to focus on mental health and suicide prevention for its students.
As part of the MAP, UA VIP instructors take mental health training courses, which helps them assist struggling service members. The program teaches VIP instructors how to recognize signs of mental illness, how to talk to students who may be struggling and how to get our students the help they need.
Course instructor Dr. Sally Spencer-Thomas, an International Mental Health and Suicide Prevention Impact Entrepreneur, and Eduardo Vega, Founder of the suicide prevention organization Humanizations, teach VIP journeymen instructors how to recognize the signs of mental illness and locate students who may be struggling to get the proper help they need.
If you or someone you know is suffering a mental health crisis, here are some resources that can help. For immediate assistance, call the National Suicide Prevention Lifeline at 1-800-273-8255.