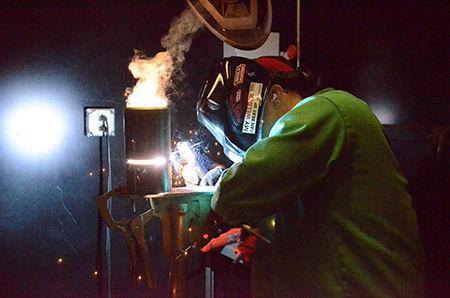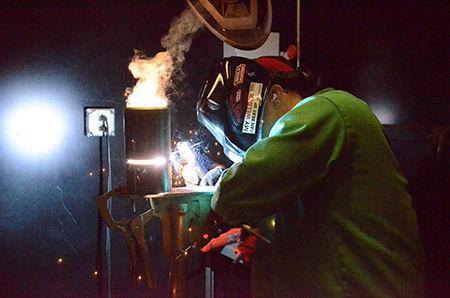 In building 6096, off of Angels Road at Fort Campbell, sparks are flying.
At each of the 20 booths that line one side of the industrial workspace, a transitioning Soldier is honing his skills and having his welding knowledge tested as part of the Veterans in Piping program. The 18-week training and certification course – provided free of charge to transitioning Soldiers by The United Association of Journeymen and Apprentices of the Plumbing and Pipe Fitting Industry of the United States and Canada
(commonly known as the UA) – is the second of its kind offered on the installation. As the current class approaches its graduation date, it is clear that the program is continuing its level of success for Soldiers.
"We have 20 participants, and everyone is on track to graduate," said Tramayne L. Meeks, VIP program liaison and education technician at the Staff Sgt. Glenn H. English Jr. Army Education Center. "They graduate Sept. 3."
Upon graduation, the Soldiers who participated in the course will be guaranteed paid union apprenticeships at the UA chapters of their choosing, which is a big leg-up on the road to becoming a certified journeyman. The UA covers all costs for the training, and Soldiers are not required to use GI Bill assistance."To be truthful, this is actually the first program that I've heard of that has been able to do this," Meeks said. "If Soldiers are accepted into the program, they need only bring their positive attitudes and can-do spirit. Everything else is provided for them, including a job."
With the promise of job security and beneficial hands-on training, it was easy for Sgt. Miles Curtis, Headquarters and Headquarters Company, 2nd Battalion, 327th Infantry Regiment, 1st Brigade Combat Team, 101st Airborne Division, to bring a positive attitude with him when he began his training 18 weeks ago."I wanted a field that would teach me along the way," Curtis said. "I knew that this would be a good career transition."
After attending one of the VIP program's weekly briefings – held at 10 a.m. each Thursday at the Ed Center, Room 242 – he knew that he wanted to get involved. When he found out he had been chosen out of nearly 50 applicants, he was ecstatic."When I first got the call, I thought they were calling me to tell me that I didn't make it," Curtis said. "I was really relieved when they told me I'd made it. After I got accepted, I really did all I could to get prepped for the class."
For Spc. James Sanders, formerly of the 563rd Aviation Support Battalion, the allure of the program came from the chance to learn a career that involved physical interaction."I did a little bit of welding downrange on deployment, but not a great job," he admitted. "But I definitely like working with my hands, and that's what interested me."
"Most Soldiers that come to the briefing are qualified for the program," Meeks said.
"Whether you've been doing welding for a long time or you're brand-new. We take both. This class is pretty diverse." Regardless of experience level at the beginning, the program ensures that participants are ready for their new careers at the end of the training period. Coming back to guide the Soldiers toward this goal were instructors Barry Richardson and Michael Smith of a union chapter in Paducah, Ky.
"We've changed some things up from when we first taught the class," Smith said.
"From the last go-round, we've gotten more welding certs out of this group than we did the first time. They've really been working hard."
While participants of all experience levels found the training to be tough at times, each met the challenge head-on, and they are excited to take their next steps toward life in the civilian sector. "I knew that it was going to be difficult, but nothing so difficult that you couldn't learn," Curtis said. "I've already signed up for my apprenticeship school in Nashville. September 1 is my first class date." For Sanders, completion of the course will allow him to begin a new career with Local 208 in Denver, where his fiancee currently resides. "I'm super excited to get started there," he said.
The Veterans in Piping program will begin its third instructional course Sept. 14, with 20 transitioning Soldiers chosen out of a pool of 49 applicants. "They are absolutely excited and they are grateful for the opportunity to have a second career and learn something new," Meeks said. Transitioning Soldiers are encouraged to attend a VIP briefing at the Ed Center to find out if the program would make a good fit in their blueprints for life after the military. "I would definitely tell everyone to at least go apply and check out everything about this class because it's got such great opportunities and such good training," Curtis said.
"I'd say this is a great place to look if you're looking for a job that's always employing people in a field that's constantly growing," Sanders agreed.
"It's a great industry to be a part of."
by Heather Clark, Fort Campbell Courier staff