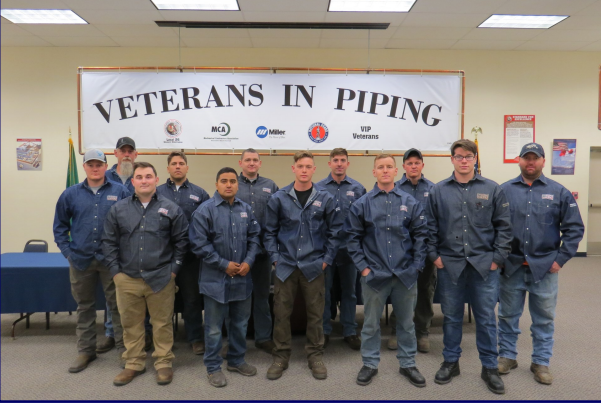 The United Association (UA) is proud to announce the graduation of two classes of its Veterans in Piping Program (VIP) at Joint Base-Lewis McChord.
On Aug. 30, 16 transitioning military service members -- eight students from Welding Class 15 and eight students from HVAC-R Class 14 – officially completed the free 18-week career training program that provides participants with the education and skills to begin a rewarding career in the piping industry. Upon their successful transition out of the armed forces, the 16 JBLM UA VIP graduates will have jobs waiting for them with UA signatory contractors in agreed upon geographical areas.
"I can say with whole-hearted confidence that this program has been a blessing to me, my family and every service member who chooses to give it a try," said JBLM HVAC-R Class 15 student Gregory Smart. "It offered me the structure I need to prepare for leaving the military. The UA VIP Program has given me the opportunity to provide both resources and benefits to my family that go above and beyond other programs and trades"
The UA VIP Program helps alleviate the stress faced by those transitioning out of the armed forces, who oftentimes have trouble finding employment when they return to civilian life. By guaranteeing UA VIP graduates employment upon completion of the program and their successful transition out of the armed forces, members can focus on taking care family and other issues instead of worrying about finding a job.
Transitioning active-duty service members who enter the UA VIP Program receive both classroom instruction and hands-on training in different areas of the piping industry. In the case of Welding Class 15, members learned basic welding skills. Through hard work and dedication, the class can receive UA welding certifications that help them advance their careers. Likewise, members of HVAC-R Class 14 earned heating, air conditioning, ventilation and refrigeration industry recognized certifications that help them start a new career. Both classes also received OSHA training to help them work safely on construction sites.
Besides the guarantee of a job with a UA signatory contractor, UA VIP graduates also begin a five-year apprenticeship program with a UA Local located in the same area as their new job. The apprenticeship program will provide them with additional education and training to prepare them for life as a UA journeyman. As UA apprentices gain experience and improve their skillset, they also receive increases in their hourly wage from their employer.
For more information on this program, including participating bases, visit www.uavip.org.