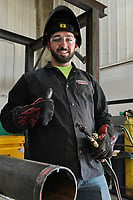 While in the Army, Garrett Karns did advanced mission planning and execution for a Special Forces group out of Fort Campbell, KY. He said, "I guess for a lack of a better term, I was a geospacial engineer." He was in the Army for four years and found his work challenging and engaging. "I loved everything about the military," Garrett said. "I got to jump out of airplanes and do challenging stuff like that, but I wasn't so crazy about the mindset back then. A lot of the people I served with were younger, and we didn't feel that the military as a whole was open to new ideas, some of which would have made things more efficient. It was frustrating at times. In my job, I was challenged mentally. I had to think missions through and try to figure out solutions to complex issues. I was always thinking, 'How can I make this more efficient? How can I change this up? How can I come up with something that will make it safer for these guys so they're not going to get blown up?'"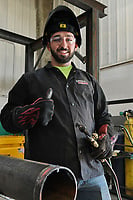 When it was time to transition out, after sitting at a desk for four years, Garrett knew he wanted to do something with his hands. "I knew I wanted to work. I had an uncle who is in the glazing union, and he suggested that I look into the trades," Garrett said. "There was a mini job fair on the base, and there was a journeyman from the Paducah, KY, local union, and he was an awesome guy. He told me about the program and what it had to offer. I was sold right away. I got into the welding program at Fort Campbell, and I really enjoyed the program. There was great comradery. We were all doing the same thing."
Garrett graduated from the VIP Welding Program and was fortunate to be placed where he wanted to go—Plumbers and Pipefitters Local 392 in Cincinnati, OH. He is a first-year apprentice and feels very fortunate he found and graduated from the program.
"A lot of my friends who transitioned with me still haven't found their way. Quite a few of them are working as servers in restaurants. I've already been out on a job in the field at Proctor and Gamble, and now I'm actually cutting and prepping pipe for one of our big jobs. I work for PCI. It's been really fun getting to understand all of the materials and to learn how to properly do things. When I go out, I definitely have more knowledge than other first-year apprentices due to the VIP program."
Garrett has long-term goals. He would like to become an aerospace welder, and he is also interested in project management and getting his degree—all possible through the UA. Apprentices receive college credit from the five-year apprenticeship program toward their associate degree through Washtenaw Community College. The UA assists its members in completing their degrees online. Garrett said, "I want to work towards my construction management degree and possibly do project management in the future." Garrett is well on his way to a prosperous career with the United Association.
This United Association Veterans In Piping Success Story was originally printed in the CareerOps: Career Opportunities in Piping for Transitioning Veterans Spring/Summer 2021 edition.