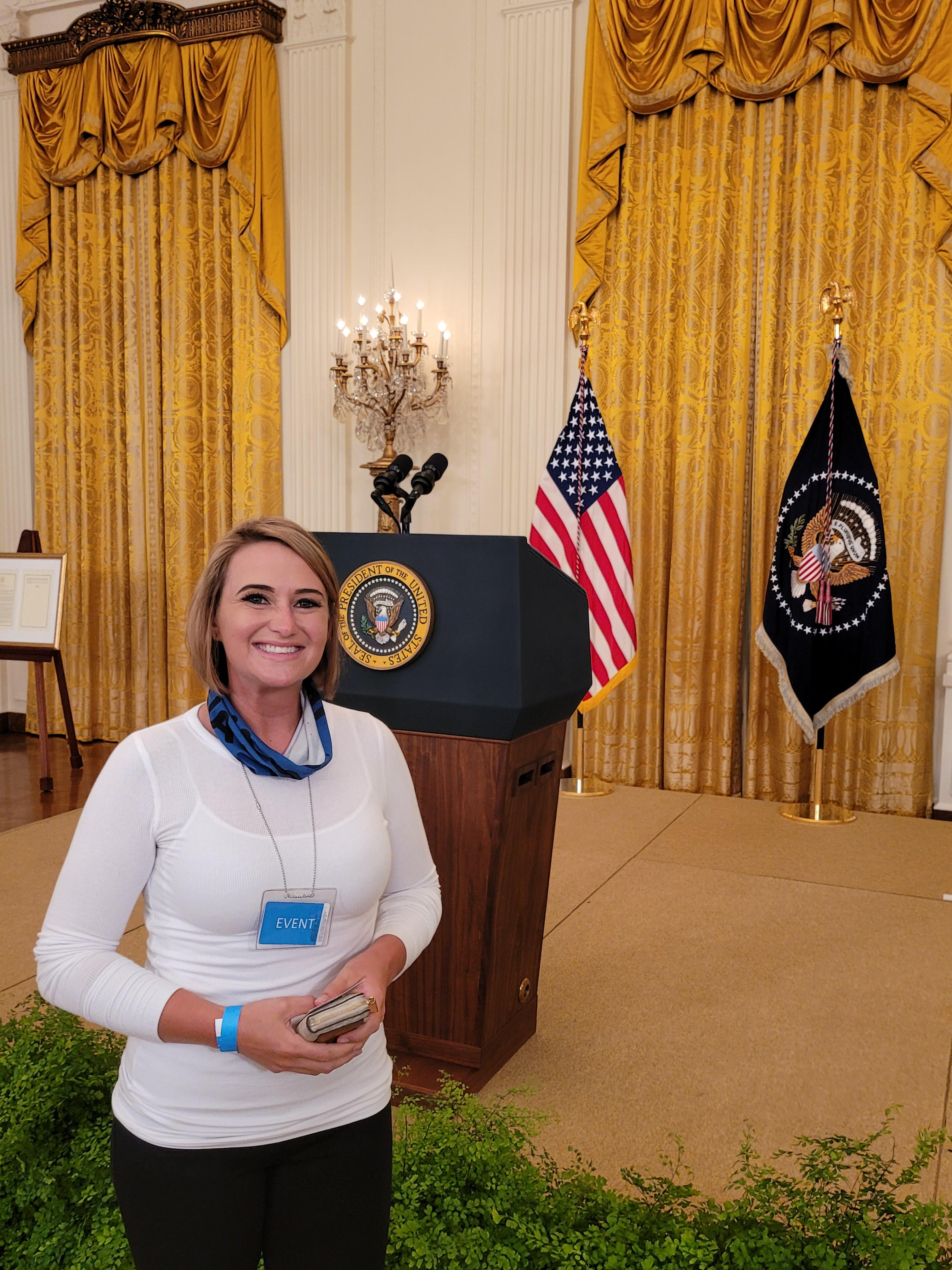 Two United Association Veterans in Piping alumni recently had the honor of meeting President Biden and shaking his hand during a Labor Day event at the White House.
The event was meant to highlight the importance of the president's Build Back Better agenda to the veteran community.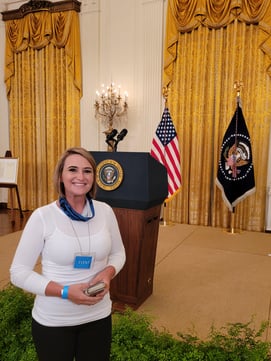 Rachel Lablance and Sean-Keoni Ellis were part of the Union Veterans Council, AFL-CIO Labor Day White House Delegation.
"Union careers give veterans the opportunity to not only take care of ourselves and our families, they give veterans the ability to serve again," said Executive Director of the Union Veterans Council, AFL-CIO and U.S. Army veteran Will Attig. "As evidenced by the stories of the union veterans at the White House today, given the opportunity, veterans won't just succeed, we will thrive."
Lablance and Ellis are among more than 1 million veterans actively working in union jobs that have allowed them to forge a solid, middle class lifestyle that provides for themselves and their families. The pair both made the transition from military service to a union career via the UA VIP program, which provides active duty service members with valuable skills training so they can easily transition out of the military and begin careers in the union pipe trades industry.
An unforgettable day for VIP veterans
Lablance sat just five seats away from Biden's podium. She described the opportunity as "surreal."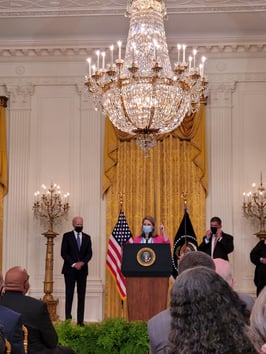 "To be able to walk into the White House and hear the AFL-CIO President, Liz Shuler, and President Biden's speeches was super motivating," Lablance said. "Knowing that Sean and I were invited to such an event because we are veterans and VIP graduates still kind of leaves me in awe!
"There's a lot of negativity in the world, especially right now," Lablance added. "But to provide veterans this kind of opportunity and hear positive speeches on how we can build back America with union jobs and provide veterans an opportunity to excel again — it doesn't get much better than that!"
Ellis was also impressed with the amount of camaraderie and support for unions the event inspired.
"To be honest the motivation in that room regarding labor was immense. Their commitment to Building Back Better is second to none," Ellis said. "The president was extremely personable and really understood what the veteran community is going through, day by day."
Ellis also appreciated how much the UA supports the veteran community.
"To see the depth of what the UA will go through to support the veteran community is amazing," he said. "Everywhere I went at the AFL-CIO building they knew about our program and what the UA has done for the past decade."
Successful union careers after military service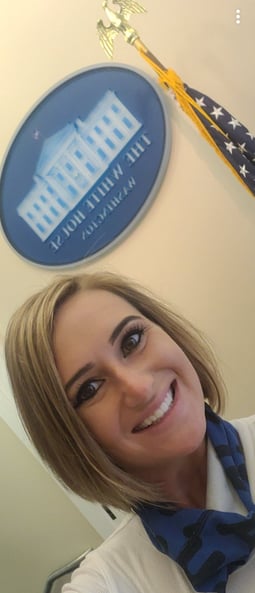 Lablance, a former Sergeant in the U.S. Marine Corps, is now a Journeyman Pipefitter/Welder, working at one of the most advanced coal-fired powerhouses in America.
In the military, she worked as a MOS-6092 Aircraft Structural Mechanic/ Welder, including time in Afghanistan.
"Being in the union has been a great opportunity for me," Lablance said. "The UA offered the Veterans In Piping Program at Camp Lejeune that allowed me and my family to transition out of the military very smoothly.
"I was able to obtain the UA welding certifications, OSHA 30 and everything that was needed and required in order to get me to work right away," she added. "Because of this I was able to buy a house and establish myself in a whole new environment in a short amount of time."
Joining the Marine Corps in 2006, Ellis graduated from the UA VIP program at Camp Pendleton in 2011. He started his UA apprenticeship immediately after transitioning out of the military and became a journeyman in 2015. He then went on to become the Lead VIP Instructor at Camp Pendleton from 2016 to 2021.
He also teaches Veterans in Apprenticeship offered as a regional course and at the UA Instructor Training Program held annually in Ann Arbor, Michigan. Ellis is now the Political Organizer with UA Local 230 in San Diego.
"Being in the union has provided the structure and opportunities my family has needed to be successful in our transition from the military into civilian life," Ellis said. "Since leaving the military, my family and I have never had to worry about medical bills piling up because the union has provided excellent health care and medical benefits.
"I was able to make good consistent pay in order to purchase a home in San Diego, where for many of my peers that has been unobtainable," Ellis added. "Being a part of the UA has given me my 'mission' back. My mission is and always has been to serve an organization and a cause that is greater than myself."