After serving five years as a 31B (Military Police Officer) at Joint Base Lewis-McChord, Army Specialist Samantha Metcalf is now a third-year steamfitter apprentice working in the greater Seattle area.
Following her successful completion of the United Association Veterans in Piping Program as a member of JBLM HVAC-R Class 7 in 2015 and her subsequent transition out of the military, Metcalf almost immediately began a new civilian career.
Metcalf said a life-long military career was not for her and she wanted to see what other opportunities were available. Fortunately, before leaving the military, Metcalf heard about the UA VIP Program, applied and was accepted.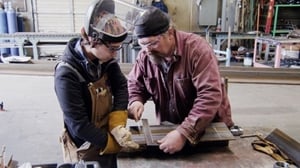 The UA VIP Program is an 18-week accelerated course for active-duty transitioning military service members. The program equips students with basic knowledge of the piping industry as well as safety training prior to being placed into a guaranteed job and a five-year registered apprenticeship program.
"It was nice to have many doors open, while transitioning out of the military," said Metcalf. "I found it helpful how the education center on Joint Base Lewis-McChord broadcasted many career options to soldiers preparing to leave the military."
Once she returned to civilian life, Metcalf joined UA Local 32 in Seattle. Even though she graduated from the UA VIP HVAC-R program, she decided to switch trades and become a steamfitter (or pipefitter, as it is called in some areas).
"With the United Association Veterans in Piping Program, I've grown so much as a person," said Metcalf. "I don't really look at it as a job because I genuinely enjoy my occupation."
Currently a third-year apprentice steamfitter at Hermanson LLC, Metcalf is working in tenant improvement and tying in heat pumps to water risers.
"The people I work with are sincere in teaching me the craft of steamfitting," said Metcalf. "I love the mental and physical challenges the construction industry has offered me."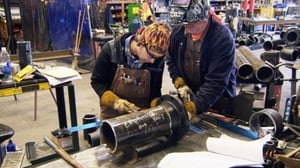 On the job, she has gained experience in her craft, performing work such as setting chillers and air handlers to tying in steam lines and natural gas to installing boilers and pumps.
"I am at a level in my apprenticeship where my foreman and journeyman can line me out with a task, and cut me loose, trusting my abilities to complete the job correctly," said Metcalf. "It has been quite the adventure, and I am completely stoked to see what the future in Local 32 has to offer me."
Metcalf said she would recommend the UA VIP Program to other transitioning active-duty military service members. Since being in the trade, JBLM HVAC-R Instructor, Dave Gibson, asked Metcalf to speak with some women who were seeking support and advice, prior to joining the trade.
If you are a transitioning active-duty military service member and you are interested in a rewarding career in the piping industry, click here to learn more about our UA VIP Program at JBLM.